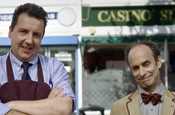 The health-food retailer recently appointed WCRS to its above-the-line account, and is now looking to expand its below-the-line CRM business as part of the same push to stand out in a market that is seeing increasing competition from supermarkets.

WCRS was handed the £7 million advertising account in April after a pitch against M&C Saatchi and Cheethambell JWT.

The business was previously handled by Guerilla Communications, which created product-led tactical advertising for the retailer. There is no incumbent direct marketing agency on the account.

Holland & Barrett has recently attempted to reposition itself away from pure price-led advertising.

In October, the retailer launched a new campaign that carried the strapline: "Come for the price, but stay for the advice."

The ads introduced two new characters, Mr Holland and Mr Barrett. Barrett focused on low prices, while Holland emphasised the brand's desire to look after its customers.