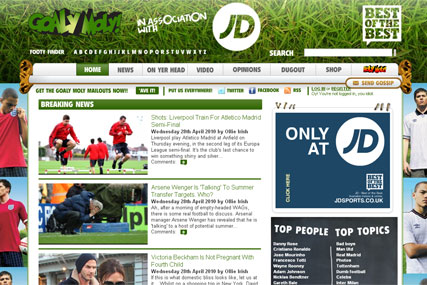 The footballing website, which briefly launched in 2006 but has been on hiatus since, aims to shake up the online football world with gossip stories and amusing tit-bits.
Writers will include football blogger Ollie Irish, with other contributors to the site being mostly anonymous.
The sponsorship of Goaly Moly by JD Sports, due to run for four months, will enable to brand to showcase key products across the site.
Holy Moly's managing director, who refers to himself only as Mr Holy Moly, said: "Over the past few years, some of the best celebrity scandals have more often than not involved footballers in some way, shape or position. I can't wait to get stuck into them. Up the Rams."
Holy Moly, which attracts 2 million unique users a month, is run by Holy Moly Entertainment Ltd, a joint venture launched in 2008 following a deal with Perform Group.