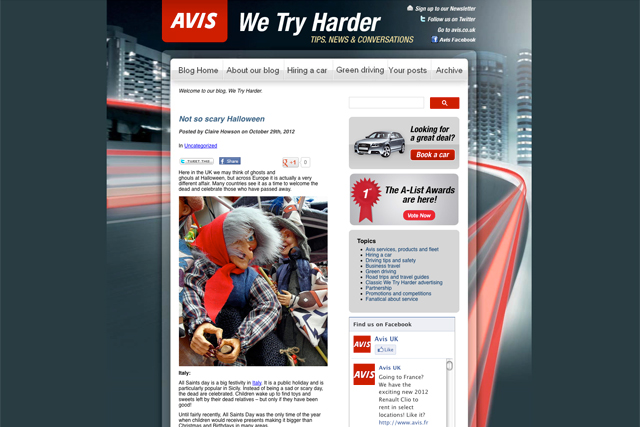 The decision by the US marketing team at car-rental firm Avis to drop 'We try harder', its strapline for the past 50 years, may have barely registered in the wider business world, but within the company, it marked a seismic shift.
Expert view: Fiona McAnena, partner, Clearhound
Since its introduction in 1962, the line, devised by ad agency DDB, summed up Avis' quest to overtake Hertz, its arch rival. The adoption instead of 'It's your space', intended to focus more on business customers, is representative of chief marketing officer Jeannine Haas' attempts to create a more aspirational positioning.
However, according to sources, Avis' interim European marketing director Sally Balcombe, currently running a pitch for a pan-European ad agency, is determined to retain 'We try harder' across the region.
One observer close to the pitch questioned Balcombe's authority to plot an alternative course, despite her insistence that agencies on this side of the Atlantic ignore the US work. 'The jury is out because I don't believe the US goes through all the trouble to reposition itself, to then give it up in Europe,' said the source.
All an Avis spokeswoman would say on the matter was that, as part of its planning work, 'we constantly review marketing strategy to ensure the best approach for the Avis brand'.
Carlsberg compromise
It is not an unprecedented situation. Last year, Carlsberg decided to align its global marketing under the line 'That calls for a Carlsberg', which it claimed had been first used in the 50s. However, it made the decision to allow its UK business to retain the understated promise 'Probably the best beer in the world', because the line has entered 'common parlance' in Britain.
Over the past 12 months, Carlsberg has run a mix of global ads, alongside UK-specific work such as its 'Fan Academy' campaign, promoting its sponsorship of the England football team. The end frame for that push included both 'That calls for a Carlsberg' and 'Probably the best beer in the world'.
A Carlsberg spokeswoman says that, while it wanted to 'reinforce the quality of the liquid' with its fresh strapline, '"Probably" was always intended to remain, (as it) resonates extremely well with our customers'.
However, other than in the most obviously appropriate of circumstances, local marketers are likely to find themselves fighting a losing battle in this situation, according to MasterCard UK and Ireland marketing director Paul Trueman, who has experience of working the UK, regional and global marketing operations at Mars, Cadbury-Schweppes and LG.
'The overriding position for global brands is they are required to be as simple and universal as possible as identifiers,' he adds. 'It is up to global to clarify what they should be, and local to find ways to work within the guidelines to help make them applicable.'
Trueman argues that local marketers should 'not try to fight the tide', but rather use 'local knowledge, insight and savvy marketing to find a way to make the (global) strapline relevant'.
As an example, he cites MasterCard's reinvention of its 'Priceless' tagline as an experience-based campaign, through its 'Priceless London' rewards initiative.
Avis marketer Sally Balcombe may be striving to retain 'We try harder' for the best of reasons, but global brands will ultimately settle on a global point of view. Digging in for the long term is likely to end in disappointment.
EXPERT VIEW: FIONA McANENA, PARTNER, CLEARHOUND
In a service business, employee engagement is vital. If the business is working to deliver a customer experience based on that strapline, and it's making a difference, that's a strong argument in its favour.
Avis has used 'We try harder' for a long time. If it's just the brand's communication that is changing, rather than a radical change to its service, then familiarity may be more valuable than freshness.
The local marketers need to show evidence to back their belief in the local message: that customers know the line, can name the brand, and feel positive toward it, and that employees are inspired by it.
As a global marketer at Bupa, I wanted the local businesses to adopt the strapline 'Helping you find healthy'. We felt it was a wonderful expression of our core proposition.
The vast Australian business came up with its own line, 'Find a healthier you'. I thought ours was better but I didn't stress over it. The meaning is the same, and if it mobilises the business to develop and deliver more relevant services, it's doing its job.
It's much more productive to find common ground than to argue over words. The most important thing is not to change too often.
Follow @alex_brownsell