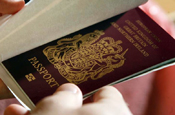 The review is being handled by COI.

CHI & Partners, Abbott Mead Vickers BBDO and VCCP will pitch for the brief.

Previously, the IPS has handed out ad briefs on a project basis. However, as the National Identity Scheme and its ID cards become more prevalent, it has decided to appoint a full-time agency.

The winning agency will be responsible for handling all advertising for the IPS, which will include briefs on passports, the NIS and ID cards.

The account is separate to the brief won by M&C Saatchi in September from the UK Borders Agency to explain ID cards to foreign nationals.

The NIS is a system of identification for adults living in the UK. Its cornerstone is the introduction of national ID cards for UK and European Economic Area residents over the age of 16.

Each ID card will combine the cardholder's biometric data (iris scan and finger prints) with their identity details.

This information will be stored on the National Identity Register. Basic identity information will also be held in a chip on the ID card itself.

The first ID cards will be issued on a voluntary basis to British citizens in 2009.