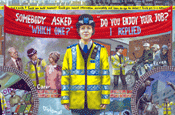 It has briefed its roster agencies, Rainey Kelly Campbell Roalfe/Y&R and M&C Saatchi, to prepare presentations for a pitch that is due to begin by the end of the month.
The work will be based on promoting safety in the community and highlighting the Government's attempts to increase the number of neighbourhood policemen, as outlined in the revised National Community Safety Plan.
The document outlines community safety policy for the next four years and covers themes such as tackling serious violence, addressing the threat to communities of violent extremists, and increasing community confidence in the safety of neighbourhoods.
The issue of government ad campaigns for police initiatives has been under the spotlight this week.
David Davis, the Shadow Home Secretary, complained that a Home Office ad that ran in national newspapers promoting a "new era in policing" was "thinly disguised political marketing for the Labour Party at taxpayers' expense". The ad was created by M&C Saatchi.
M&C Saatchi, RKCR/Y&R and the Home Office all declined to comment.