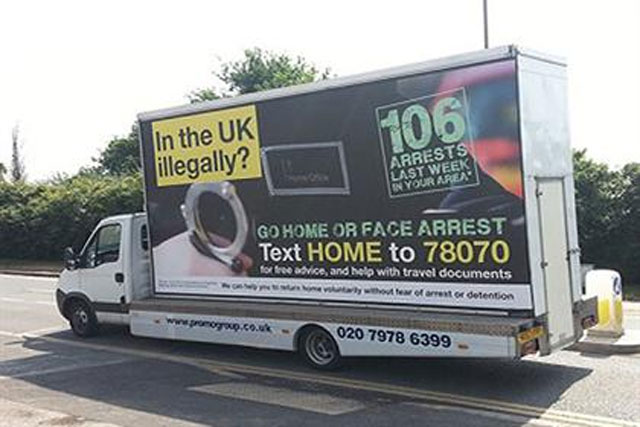 The ads were displayed on roaming vans emblazoned with the slogans, "In the UK illegally?" and "Go home or face arrest".
The ASA has confirmed that the Home Office's ad, believed to have been created in-house, has received complaints that its "Go Home" message is offensive and irresponsible because it is reminiscent of slogans used by racist groups to attach immigrants in the past, and could incite or exacerbate racial hatred and tensions in multicultural communities.
The ASA has also received complaints that challenge whether the claim "106 arrests last week in your area" is misleading in itself, and whether it is misleading because it implies arrest is the automatic consequence of remaining in the UK without permission.
The ASA said it will publish its findings in due course. A Home Office spokesperson said: "We can confirm that we are in contact with the Advertising Standards Authority over this investigation and will respond in due course."
Civil liberties and human rights group Liberty hit back at the van this week, launching its own mobile van billboard with the messaging: "Stirring up tension and division in the UK illegally? Home office, think again".