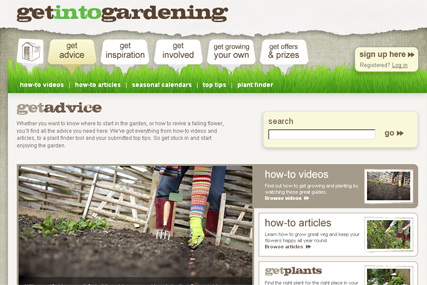 The site, which launches today (15 March), allows people to buy items from the retailer.
Hosted on the Homebase website it is the retailer's first foray into social media advertising on Facebook. It is being supported by search marketing and a promotion in the national media.
Homebase is targeting an initial 2.5 million email subscribers on Thursday (18 March) with details about the community and a competition. Consumers who sign up to the community will have the chance to win tickets to the Chelsea Flower Show.
The first Get into Gardening online newsletter will be distributed to seven million people in the next month, carrying a food-themed design, with ideas for cooking with home-grown vegetables.
The Get Into Gardening community, created by Meteorite, currently hosts over 50 'How To' articles and 30 instructional videos.
The retailer hopes to have around 110 clips to view by February 2011. The site also contains trend features, blogs from celebrity gardeners and designers, and an interactive forum.
Richard Bruce, head of multi-channel and loyalty at Homebase said: "Results from a survey we conducted among more than 200,000 people revealed that over 30% of respondents would choose the garden as the first part of the home to improve.
"This suggests that the outdoor room of our home is now at the forefront of people's minds as the season changes and days get longer.
"We wanted to create an interactive platform to provide inspiration for everyone, with 'How To' guides and useful tips from the experience of others, plus our own experts.
"The launch of Homebase.co.uk/getintogardening coincides with the key spring planting season and will have everything customers need for the perfect garden."