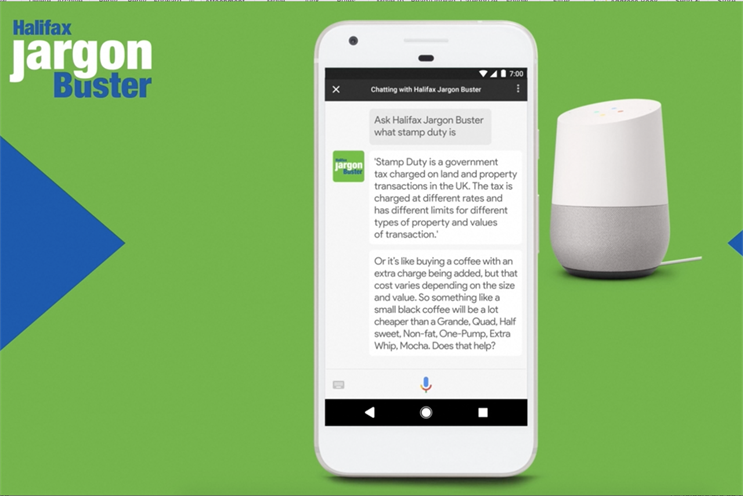 Working with Adam & Eve/DDB, Google Zoo and media agency Greenhouse, the Halifax Jargon Buster explains the terms relating to house buying that are most often searched on Google, using sensible explanations backed up with easy-to-understand analogies.
This includes "stamp duty", "gazumping", and "gazundering", along with 20-plus of the most often searched-for mortgage terms.
It can be accessed using Google Assistant on mobile devices and Google Home, by saying "OK Google, let me speak to the Halifax Jargon Buster".
While it uses Google Assistant's voice, the jargon buster has adapted it to sound different with a more casual speech pattern and a friendlier tone of voice.
Adam & Eve/DDB has also created a dedicated website and a series of films for the Jargon Buster.
The results provide dictionary definitions and videos to make the language easier to digest, with Adam & Eve/DDB adding more content as the campaign continues.
The campaign was led creatively by group chief creative officer, Ben Priest, group executive creative director Ben Tollett, and chief creative officer, Richard Brim.
"Buying a home is usually the biggest financial commitment we make in a lifetime, and we know that mortgage and property market terms can feel difficult to grasp – with many people turning to Google for help," Tim Male, head of innovation and communications at Halifax, said.
"As part of our commitment to the mortgage market which includes lending £10bn to first-time buyers in 2017, this felt like the perfect opportunity to join forces with Google to help people navigate the home buying process more confidently and get a step closer to their dream home," he said.
Previous iterations of this campaign included a TV ad last year and a social campaign.