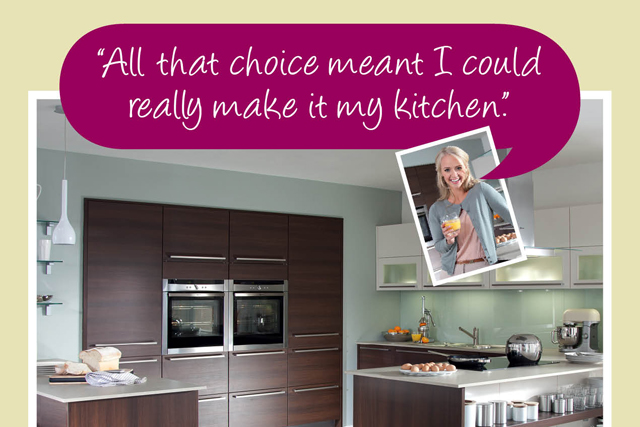 The slogan 'My kitchen, my choice, my price' and a revamped logo are at the heart of the £12m activity. The campaign, which is intended to reignite demand for fitted kitchens, is by ad agency The Market Creative, which won the account earlier this year.
The push kicks off this week, with Kitchens Direct promoting a range of 30 German- made kitchens via TV, press and online advertising.
A 30-second TV ad, airing on ITV, Channel 4 and Channel 5, depicts a young woman sharing ideas with a Kitchens Direct designer, with the kitchen coming to life around her as she makes her choices. The Market Creative has also produced a 2011 Kitchens Direct brochure.
The HomeForm group has suffered from declining demand due to the recession, with turnover between 2008 and 2009 falling by 9.7% to £148.2m, according to Mintel.
HomeForm competes in the furniture market with profitable off-the-shelf retailers such as market-leader IKEA. It also indirectly competes with DIY retailers such as Homebase and B&Q. HomeForm Group, which comprises the Kitchens Direct, Moben, Dolphin and Sharps brands, operates more than 150 stores in the UK and has a 1.7% share of the furniture retailing market, according to Mintel.
Meanwhile, IKEA commanded a 9.6% share in 2009, and in 2009/10 generated an operating profit of £43.5m. Rival DIY specialists Wickes has spent heavily on marketing over the past two years, including its MWO-created TV ads voiced by actor Timothy Spall.
The campaign, featuring the tagline 'It's got our name on it', was most recently adapted with a TV ad to focus on the Wickes catalogue.
Separately, Homebase recently appointed former B&Q marketer Jo Kenrick as its marketing director.