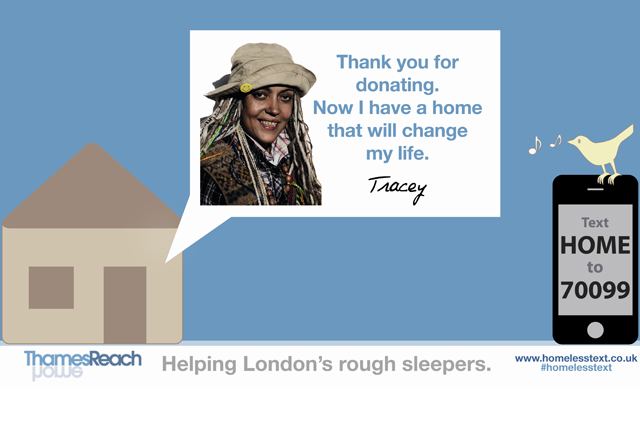 The campaign solicits a £2 text donation with the incentive of a download of a new song called 'Lifeline' donated by singer Imogen Heap.
Creative will be updated over the course of the campaign to show how individual rough sleepers are being helped by Thames Reach.
Clear Channel donated two weeks' worth of space after the idea for the campaign won its Quick Fire Pitch competition for students.
The campaign was conceived by Oliver Tiersch and Mar Broseta, a creative team at the newly launched advertising school, School of Communication Arts 2.0.
It will play out on a dedicated website,
homelesstext.co.uk
, a
Facebook page
, and a
Twitter account
. Comments made by members of the public on these pages will be incorporated into the digital ads as the campaign progresses.
Donations can be made by texting the word 'home' to 70099.
Tiersch said: "Thames Reach and Clear Channel offered us the opportunity to explore creative ideas and come up with a really exciting campaign that will run this month around London.
"Creating and then implementing the idea with Clear Channel's help has been an invaluable experience and we have become immersed in the issues facing homeless people. It would be fantastic to see people texting homeless people off the streets and making the campaign a success."