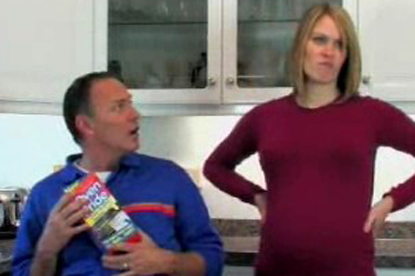 The new ad continues the theme that was begun in the first ad, for OvenPride, that Homepride's chemical free and recyclable products are so easy to use that "even a man can do it".
It features the same couple as before. However, this time the wife is no longer pregnant and the couple is accompanied by their baby son.

Matt Stockdale, the managing director of HomePride, said: "We're thinking of warning the ASA to expect another flood of complaints.

"It is sadly inevitable that this new ad will be once again taken out of the context in which it was intended and no doubt will infuriate certain people again.

"The ASA agreed with us that the first ad was slapstick and pantomime and we hope they will agree this time."

In the new ad, the unamused wife encourages her lazy husband to clean the bathroom explaining that it's "so easy a man can do it".

The ad ends with the baby laughing and the tongue-in-cheek line "No men (or babies) were harmed during the making of this slapstick, pantomime and over-acted advert" as a nod to the amount of complaints the previous commercial received despite being lighthearted.