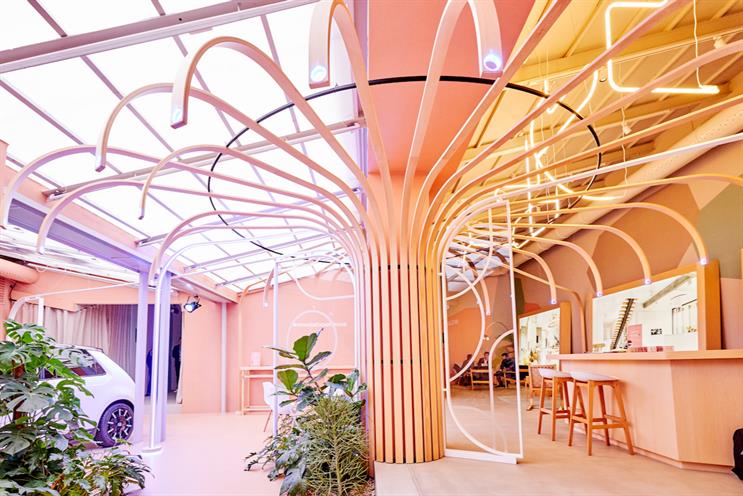 Honda is showcasing its 0% emissions E Prototype car at this month's Milan Design Week, with an immersive space telling the story of its electric vehicle.
Created by Avantgarde London, visitors are first immersed in the sights and sounds of a bustling city. As they move through the space, the ambience becomes greener and more tranquil. When they walk through the final projection curtain, they come face to face with the E Prototype.
The prototype car, which was launched at the Geneva motor show last month, is positioned in a landscaped space featuring plants and a conceptual tree centrepiece. Created by Italian artist Alessandro Gedda, the tree is made using bent birch ply and carries electric-blue lighting to represent clean energy.
Another space celebrates the "indoor" and features a collection of Scandinavian-designed classic furniture set against images of contemporary living spaces, representing the "seamless" living the E Prototype is meant to epitomise.
Meanwhile, visitors can explore the interior of the car via virtual reality before sipping on an Italian coffee.
Steve Austen-Brown, Avantgarde London's creative director, said: "This was a wonderful opportunity to look at other ways of promoting a vehicle beyond the usual performance statistics. We were able to explore the more emotive stories around the car's design philosophy and position it as a truly connected product more in line with your smart devices than classic automobile and relate the product to visitors' life experience."