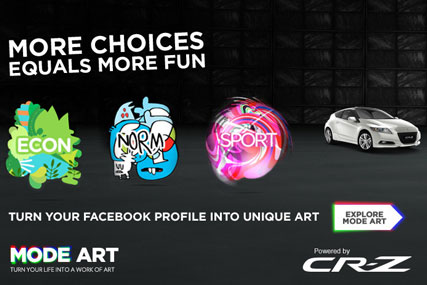 The campaign, which was developed by media agency Starcom with digital creative handled by Collective, integrates a range of Facebook social plug-ins to promote Honda's CR-Z sports hybrid coupé.
The campaign comprises four elements. The first is a three-phased ad campaign designed to target a 25- to 35-year-old ABC1 audience, reaching more consumers through each phase.
The second is a Nielsen BrandLift study to measure the impact of the online activity, including how it has affected people's attitudes to Honda.
The third part of the campaign is a Facebook application on the Honda UK Facebook page. It lets users create personalised pieces of art based on their Facebook profile data.
Finally, the fourth element of the campaign is the integration of the Facebook plug-ins with Honda's website.
The first wave of advertising breaks today (4 June). It will target all Facebook users aged 18 and over who log in within a 24-hour period. Various executions will suggest that users click the "Like" button on Facebook.
The second phase will run 11-18 June and will target those Facebook users who were not reached in the first phase.
The final phase kicks off on 19 June and will run for six days. It will target all users who interacted with the campaign with a sampling ad encouraging them to order a brochure or book a test-drive.
Martin Moll, Honda UK's head of marketing, said: "The Mode Art application not only involves customers in a unique experience and creates something they can share, but it also highlights some of the key features of the car."
Stephen Haines, Facebook's UK commercial director, said: "Bringing together a targeted Reach Block to give the campaign a boost at launch; ongoing engagement ads to drive people to engage with the Honda UK Page, an innovative app tailored for this model, and also integrating social plugins across the Honda website, will I'm sure produce a very successful launch campaign for Honda."