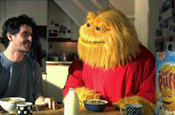 After an absence of five years, the larger-than-life puppet has been resurrected by Bray Leino.
Its ad, which features the monster rapping with a human housemate, will run until May, and then again from early July to mid-August.
Bray Leino managing director Bruce Hutton said: "Honey Monster is without doubt one of the classic TV ad characters. We feel his latest antics bring him up to date and have the power to get people talking."
Last week, it was revealed that rocker Ozzy Osborne is addicted to the breakfast cereal, and imports boxes from the UK to his LA home.