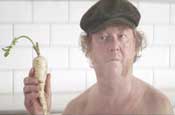 The agency was forced to re-pitch for the business in early January against Doner Cardwell Hawkins and the direct marketing agency Joshua.

Each agency was asked to create a number of TV scripts promoting a range of possible new product launches that Florette is considering for UK market.

Hooper Galton was initially dropped from the race leaving a two-way shoot out between the remaining agencies.

However, the salad brand, which is owned by the French company Soleco, made a U-turn on its decision by re-appointing the incumbent at the last minute.

The agency was originally appointed to the account in February 2004 following a three-way pitch against two undisclosed agencies.

Since then the company has steadily increased its marketing spend as it expands its business and launches new product lines.

Its latest innovation is pre-packed steamed vegetables, which Florette launched in December last year.

The launch was backed by a TV campaign created by Hooper Galton. The work saw two farmers, wearing nothing but towels, flat caps and Wellington boots, sitting in a steam room producing vegetables of varying sizes from behind their backs in a bid to outdo each other.