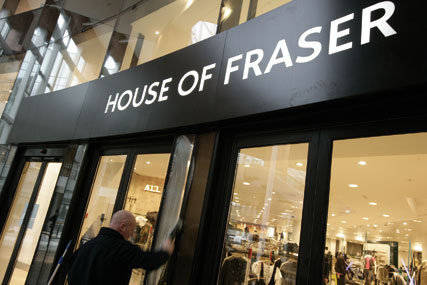 It said that EBITDA (earnings before interest, tax, depreciation and amortization) grew by 22% to £13m in the 26 weeks to the end of July this year, compared to £10.7m in the same period last year.
Overall sales grew by 5.5% to £480.6m in the period.
House of Fraser, like a number of retailers, has recognized that digital sales will be a key driver of revenues going forward.
Earlier this year it appointed digital agency twentysix to oversee a full redesign of its e-commerce operation.
Disclosing its financial figures, the company said e-commerce had shown significant growth. It said it was now vending 700 brands online and expects this to grow to more than 1,000 brands during 2011.
It said web sales over the past 12 months hit £35m and that it had a target of £200m within three years.
John King, chief executive of House of Fraser, said: "We have had a strong performance, despite what can be described as a tough trading environment.
"Our strategy to enhance our customers' shopping experience, through a new 'look and feel' in stores, the introduction of exciting new brands and the development of our multi-channel approach is working for us."
The company said it was expanding internationally through a franchise agreement with Retail Arabia. It said the first store was due to open in Abu Dhabi in 2012 with more planned for the future.