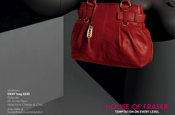 Each execution features one of the stores "must have" items for spring being modelled by a black mannequin.

In a bid to show just how tempting the items are, each ad carries a statement supposedly being spoken by the item itself.

In one, a dress exclaims: "No pressure but I am the last one in your size", while another execution featuring a bag carries the text "Too late, I'm in your head, soon I'll be on your arm".

The ads, which were created by the creative directors Steve Boswell and Steve Drysdale, will run in national press and magazines throughout spring.