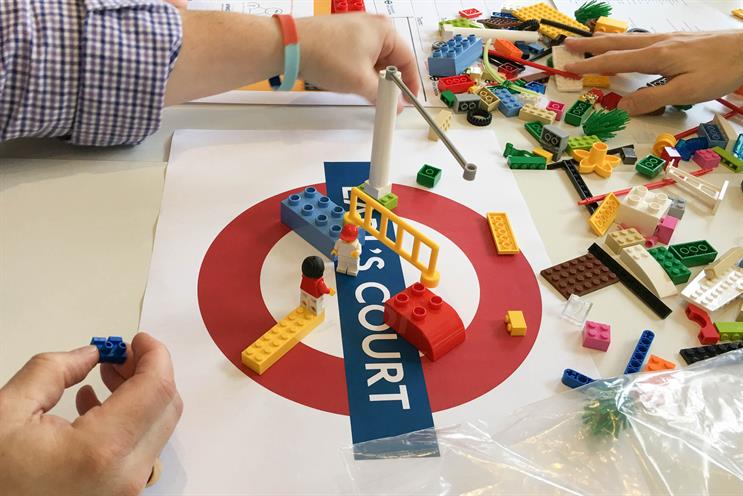 More than 1.3 billion passengers use TfL's transport network on an annual basis – a figure that will only increase. So how can the organisation capitalise on the real-time, crowdsourced data it has on Londoners, to improve customer experience and control rising pressure on the public-transport network?
This was the challenge that customer experience consultancy WAE put to 50 senior brand-side marketers during a day-long 'boot camp' session.
Using the example of TfL to trial customer-experience models, the delegates, including Sabrina Del Prete, managing director of digital at private bank Coutts, and Joe Morrison, head of business innovation at children's charity Plan UK, were briefed to come up with ideas based on a series of customer mindsets.
Lego and love letters
A TfL customer interacts with hundreds of touchpoints in a lifetime. Getting to grips with the various mind-sets of these customers is no easy feat; they comprise a multitude of personalities - from confident travellers, to the cautious and creatures of habit. Allocated a personality-type and specific station brief, groups worked together to come up with ways of using real-time data to improve 'wayfinding', and encourage active travel among commuters.
Given tasks such as building a Lego model of the 'pain points' people experience while commuting, writing a love letter explaining why they value their relationship with TfL, and pulling together storyboards, the marketers were able to communicate a shared understanding of the challenge.
They then defined 'actionable' outcomes. Here's what they came up with:
1. The 'CATY Pocket: Caution and Thoroughness in Your Pocket' app.
This dynamic route planner learns the user's preference and automatically suggests easier, more relaxed ways to make a journey for the more cautious passenger. A sliding scale of preferences allows passengers to choose an option that suits them, in this way reducing anxiety on the day.
2. Step Change
This would use a variety of SMS and Twitter alerts to encourage people to consider more active means of travelling around London. In exchange for customer data, the software would offer the customer notifications about how much they had saved and calories they had burned.
3. Journey Buddy
An ideal app for people anxious about getting home for their children's bedtime. This feature offers parents controls over the quickest route and mode of transport in real-time – allowing crowdsourced passenger data to inform decisions.
4. Free gamification app
This would allow customers to choose their preferred route and mode of transport based on crowdsourced customer data – customers would then be rewarded for choosing healthier options via various games.
5. Virtual Annie/Andy
A handy hologram that 'picks up' the virtual commuter. The guide would take the commuter around the station on a hoverboard to reveal the least crowded route at that time.
6. Help Us Help You
A proactive planner app designed for the inexperienced commuter who rarely travels to London. Not only would it enable forward-planning and direct commuters to quieter carriages, it would also suggest landmarks to visit above-ground.
Crowdsourced data-engagement solutions such as these are leading the way in providing a more efficient customer experience for all brands. For an organisation such as TfL it enables them to plan, avoid overcrowding and keep the network flowing. Most importantly, it leads to more interaction with what should be a crowd of happier, healthier and more relaxed commuters.