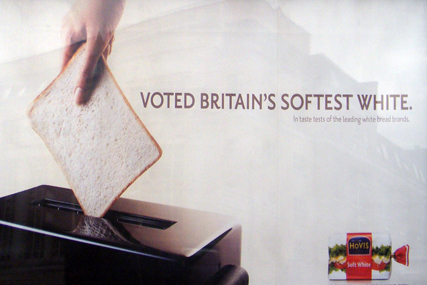 The ad, created by Miles Calcraft Briginshaw Duffy, received three complaints – one each from rivals Allied Bakeries and Warburtons, and one from a member of the public.
The poster ad, which ran in 2009, featured a picture of a woman's hand placing a slice of white bread into a toaster. The text next to the image stated "Voted Britain's softest white. In taste tests of the leading white bread brands."
A magazine ad replicated the format, but added in small print running up the left-hand side of the ad, that it was "Based on a sample of 216 respondents in Nov/Dec 2008". A leaflet ad followed a similar format.
The ad was challenged over its claim that it was voted Britain's softest bread. Premier Foods argued its test was representative of the bread available to the majority of the British public – with a focus on the top three white bread brands that account for more than 70% of the pre-packed white bread sold in the UK.
It said Hovis was rated "significantly softer" than its rivals and, furthermore, that it carried out regular monitoring of the softness of its bread.
However, the Advertising Standards Authority (ASA) upheld the complaint and banned the ad. It noted that the recipe for one of the branded breads involved in the taste test had been changed in February 2009 and that at the time the ad appeared in October 2009, all three breads were made using a new flour.
It added that it could therefore not be certain whether these changes would have impacted on the softness of the three breads.
While noting that Hovis received a better average softness rating between one and 10 than its rivals, it specifically noted that when respondents were directly asked, after trying all three breads, which they liked best for the softness of the bread, the majority of respondents had not chosen Hovis.