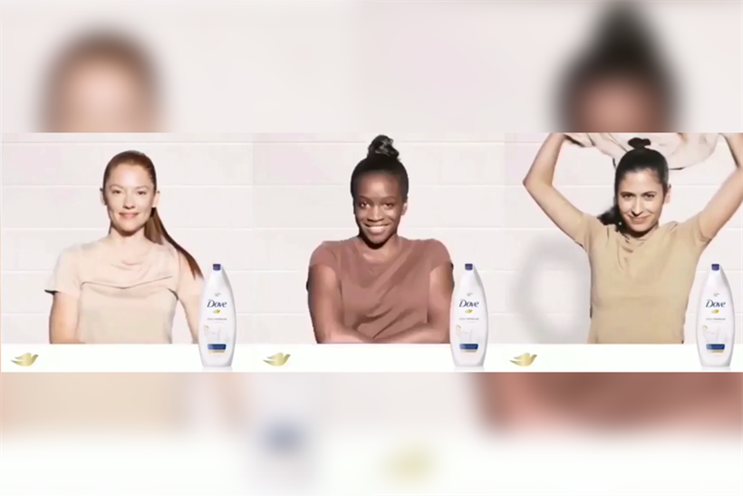 The Unilever beauty brand has come under fire for a Facebook ad for its bodywash showing a black model transforming into a white one. That the white woman then transforms again into another woman with a different skin tone has not stopped the internet going into a rage.
Unilever was quick to issue an apology in an attempt to defuse the matter. However, the black model from the spot, Lola Ogunyemi, has written an eloquent piece defending the ad and also questioning why Dove failed to make a similar defence.
But in an age where people take offence easily, is race beginning to be a dangerous territory for brands to broach? Or do companies need to embrace the diversity of their audiences but improve the processes they have in place to avoid such scandals?
Rania Robinson,
managing director, Quiet Storm
In an industry serving a multicultural audience, race can't be a no-go. This was Dove showing it caters for all skin-types and I'm unsure how you'd do that without touching on race. While there is something in this ad that is reminiscent of the racism found in some advertising in the past, it struck me as an error of judgement, not intentionally racist. It does show the need for greater sensitivity and scrutiny of how something might be perceived. Particularly when delivering social campaigns, which are often fast turnaround and consequently don't benefit from the same level of rigour.
Neil Henderson
chief executive,
St Lukes
Obviously Unilever didn't intend to make a racist ad here but nevertheless they made a mistake. All commercial images need to be judged not just for their intention, but also for any unintended consequences across any number of issues. This means marketers need to be fully aware of how their output might be interpreted and act thoughtfully. The more diverse the team, the easier this will be. This is even more important in an increasingly fail-fast culture, where a proliferation of channels is demanding an explosion of content, created at speed by ever more autonomous teams.
Jai Clarke-Binns,
co-founder, People of Creativity
In a nutshell, no. The erasure of race in marketing is the beginning of a slippery slope which opens up more questions and scrutiny. Which race is the least offensive, what race is normalised? As you can see, such questions are the issue which perpetuates the misrepresentation of race in advertising. What marketers need to ask is "How might our intentions be misinterpreted?" A simple question which allows pause, reflection and critique. Marketing needs more responsible uses of race to build trust with its consumers, if you do it right, the above is not even a relevant question.
Martina Olbertova
founder and chief executive, Meaning.Global
The ad suggests inflammatory meaning without Dove even knowing or suggesting it. The embedded before/after benefit of cosmetic products is what easily sways people's judgment to good/bad or right/wrong binary oppositions. Poking culture can easily snowball into taking on inflammatory associations that no brand wants to be associated with. When tapping into the pool of meanings, a brand needs to be aware of the implicit historical connotations they are subjected to, as by appropriating various codes of culture, they are becoming a part of the conversation. That's why marketers today should scan culture and its evolving signifiers in order to tap into the relevant codes of the now, understand the zeitgeist and where the society is moving and mine for meaning to create relevant campaigns.