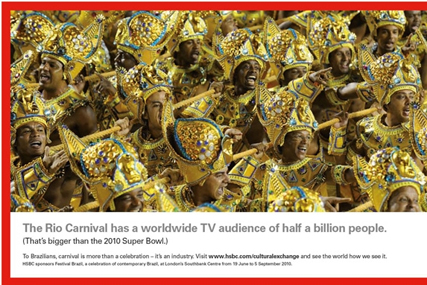 'Festival Brazil' is the third such sponsorship undertaken by the banking giant, following its backing of programmes revolving around Chinese and Indian culture in 2008 and 2009.
The programme will centre on a series of events at London's Southbank Centre, including exhibitions and performances by Brazilian artists. HSBC-sponsored events will also take place in the US, South America, the Middle East and South East Asia.
HSBC has tied up with the Financial Times to host a series of forums advising UK businesses looking to expand into Brazil, while The Economist Intelligence Unit is producing a report on doing business with Brazilians.
The bank has also partnered with Time Out to produce a consumer guidebook to Brazilian culture, entitled '500 Ways To Experience Brazil Around The World'.
The programme will be supported with an international ad campaign, by JWT, with each print and outdoor ad offering an insight into Brazilian economics.
One ad states that the Rio Carnival has a global TV audience of half a billion people, while another claims Brazilian football clubs have earned $1bn through the sale of players to overseas clubs.