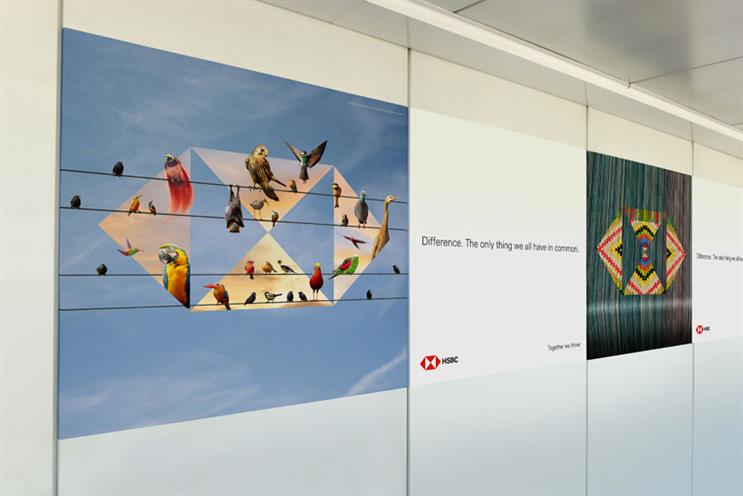 Now the bank is planning its biggest OOH campaign to date to promote its new brand positioning.
Around 18 months in development, the campaign – by Saatchi & Saatchi – aims to bring to life HSBC's role in "connecting the world", and boost awareness of its "Together we thrive" brand promise, which launched earlier this year.
Each ad will offer a view of a global scene relating to the bank's business priorities – from trade and education to diversity and sustainability – as seen through the lens of HSBC's "hexagon" logo. Topics include rooftop farming practices in New York, community cycling in the UK and food markets in Hong Kong.
A series of 79 different creative executions will roll out across 17 airports in nine countries - including Heathrow and Gatwick – covering 1,500 jet bridges and 94km of passenger walkways. HSBC claims the ads will be seen by 900 million passengers this summer alone.
Speaking to Campaign, Leanne Cutts, HSBC's group head of marketing, said the introduction of "Together we thrive" offered an opportunity to "refresh what is already an iconic campaign".
While the framework for the campaign was devised by HSBC's global marketing team with Saatchi & Saatchi and branding agency Turner Duckworth, Cutts said it was important to allow local markets to propose creative idea relevant to their audiences but in-keeping with the brand's "tone of voice".
"We do talk about having that intelligent wit, that wry sense of humour. Keeping that tone has been important. You want the consumers to work a little bit, both from a visual perspective and also with what words we might use. [We want] people to stop and say, 'Oh', and to get the slight joke," she said.
Unlike in previous years, when the focus was on occupying travellers during those final, often frustrating moments before boarding aeroplanes, the brand is looking to dial up its activity throughout the rest of the airport experience. "If you are going to travel – and people are travelling more and more – you do need to get there early. That is a fact of life, and all airports are looking to become destinations," she said.
Cutts added that HSBC is looking to engage throughout consumers' "end-to-end journey", with DOOH screens linking to apps on travellers' smartphones and "digital destination guides" offering tips for travellers across the globe.
"People have thought about travelling long before they arrive at the airport, and we want to be part of all those steps, and not just the final ones," Cutts added.
With HSBC in the middle of switching agency from Group M's Mindshare to Omnicom's PHD, media planning and buying was handled on an airport-by-airport basis.
Though Cutts declined to be drawn on how much the bank is spending on the campaign, she revealed the roll-out is "something we haven't done at this scale before", and underlines HSBC's belief in the effectiveness of OOH media.
"Clearly we've been investing in this for an awfully long time and we've renewed those commitments. It's clearly going to continue to be a critical part of our media mix because it is such a major audience, in excess of 900 million people a year. It's a significant reach vehicle."