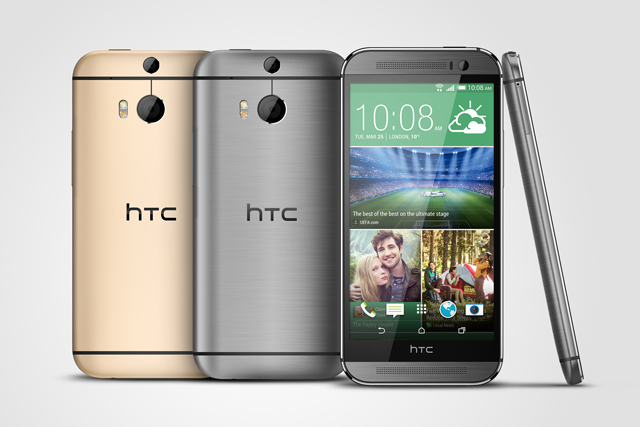 The new HTC One, revealed today in London and New York, will aim to build on momentum created in 2013 when the previous HTC One won the most mobile awards.
Frølund said: "It is not just a question of how much money you spend. I could even be as bold to say the more money you spend on marketing, the more insecure you are that you've actually got the right product.
"There's even a manufacturer on the market right now that gives you a TV set if you want to buy a new phone. Is that really necessary? We are obviously investing in marketing, but we think the best investment we can do is to create the best product and almost let the product speak for itself."
The new HTC One will come with a brushed metal case to emphasise its premium nature, have a larger screen at five inches when compared to the 4.7 inches of the previous model, and has a camera with a depth sensor.
HTC One's depth sensor offers Photoshop-like abilities via a "hardware solution" to allow users to change the focus within an already shot picture, and provides a 3D picture with a "dimension plus" feature you can see by tilting the device.
Frølund said: "What you will see us talking about [in our marketing] will be design, craftsmanship and attention to detail.
"What we did from a marketing point of view last year is we went out with TV commercials that talked about the BoomSound and BlinkFeed features, but the only thing people actually talked about was design.
"We probably got a little bit carried away from an innovation point of view that we felt had those great features. So we wanted to talk about them and we kind of forgot about the design story."
The campaign is the biggest yet for HTC One and, while the overall marketing message is about design and will not star Robert Downey Jnr, HTC will use social and digital channels to talk about innovations within the phone.
Social activity will be built around initiatives including the HTC One Skatepark that is being carried out in collaboration with Selfridges.
HTC One Skatepark: The Teaser a Skateboarding video by Prime and Fire
The new HTC One is the company's answer to the Samsung Galaxy S5, but Frølund argues HTC does not see the launch as just a numbers game.
He explained: "We are always being compared to competition but a lot of that comparison is they are selling more devices than you are – but BMW is also selling more cars than Tesla, but I'm pretty sure you will find it more interesting to talk about Tesla than BMW."
"We want to be the ones that you are talking about when you are talking about somebody pushing the boundaries with what you can do with a mobile phone. I think that we've achieved that."