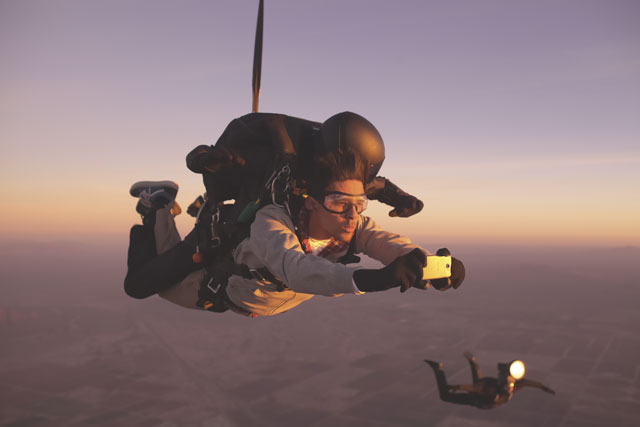 HTC will kick off its global campaign on Wednesday 4 April with TV activity that promotes its One family of phones' "amazing camera, authentic sound".
HTC is claiming the campaign is its biggest to date.
The brand is introducing the "as recommended by" positioning with non-actors using HTC handsets in real-world product demonstrations and will incorporate the user feedback gathered with future marketing.
Historically, HTC has focused its marketing on individual devices and their product specifications but is now focusing on their family of products.
The new television activity shows amateur photographer Nick Jojola carrying out a photo shoot on an HTC One camera while skydiving alongside world champion skydiver and model Roberta Mancino.
The creative was shot at dusk and dawn to show the photo capture functionality and instant capture capabilities of its HTC One handsets.
However, the company will avoid drilling down into the technical details of its handsets in future advertising.
HTC is preparing to gather positive and negative user feedback of its phones from retail sites and social networks and will host the results on the product pages of its website.
Feedback will be used in digital banner advertising and could decide the future direction of television campaigns.
James Atkins, head of marketing at HTC UK & Ireland, said: "We are putting our fate into the hands of the public. What people will start recommending is stuff they place genuine value in.
"There has to be an organic nature to it, we won't try and control everything too much. It's about us having the confidence to say that the phone lives up to expectations."
Atkins said the campaign's "organic nature" meant it could not be described as crowd sourcing and affirmed future marketing will use genuine feedback. "It's a brave company that tries to dupe an audience," he said.
In the UK the company will also hold experiential events including a vertical wind turbine, which will allow people to take their own images while "skydiving".
These images will be cut into the television advert with participants encouraged to share the videos on social networking sites.
Between February 2012 and February 2011, HTC reported a 36.8% fall in revenues.
Follow Matthew Chapman at @mattchapmanUK