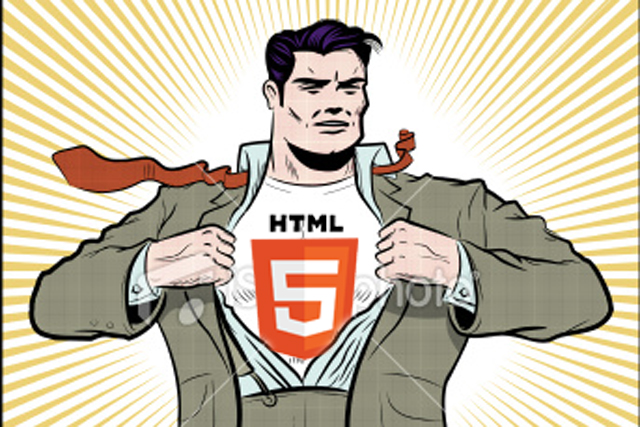 Ask a Flash designer what they do for a living and there's a good chance they will no longer say "Flash designer". They are more likely to reel off a range of different skills, most of which have probably been acquired over the past two years.
Because even Adobe now acknowledges that the future is not really about Flash.
This hasn't all come about because Apple declared war on Adobe, though that didn't help. It's because of HTML5, a technology that has finally emerged as a genuine game-changer. In fact, Flash has been incrementally aligning itself to HTML for some time and Adobe is now moving towards HTML5 far faster than expected even a few months ago.
But what is HTML5? Will it live up to the hype and what will it deliver for us credit-crunched agencies and advertisers?
HTML5 is, not surprisingly, the latest version of the HTML standard. HTML is the mark-up language that provides us with the building blocks that make up a web page. It is the foundation upon which the content we see - words, images, sounds and video - can be layered. But where standard HTML requires additional proprietary layers of technology called plug-ins before you can watch the video or play the game, HTML5 has the potential to do the whole job on its own.
HTML5 provides native video and a canvas upon which to create animation. It offers a robust transactional tool. It optimises search, creates more personalised relationships between users and aims to work seamlessly across different operating systems and browsers. Most importantly of all, it enables you to transfer and optimise an experience from desktop to tablet to mobile without interruption. Any screen size, any platform, any browser, anywhere. Here is the glue that promises to hold 20,000 different devices and technologies together. At least, that is the theory.
Does it work? In part. Performance varies from browser to browser and some functionalities are more effective than others. Adoption has been patchy and development slower than many had anticipated. This is partly inevitable as the HTML5 standard hasn't been approved yet by the W3C (the internet equivalent of Fifa). There is now intense pressure on the W3C to address this. Until it does, browser and device manufacturers will continue to ask why they should invest millions complying with a standard that hasn't yet been approved, and which is likely to change.
Yet that isn't holding back our industry. More and more digital ad agencies are proposing solutions based on HTML5. It's easy to understand why.
Creative departments can look forward to a day in the not-so-distant future when their digital ideas are no longer constrained by the file size of the banner. Suddenly, all media is rich media. If video, animation and interaction will enhance a campaign, it will be available automatically. What's even better, consumers can complete entire user journeys, including transacting, within the ad.
Media planners can enjoy a similar sense of freedom. Now campaigns can be mapped across a greater breadth of channels than ever before.
CRM will reach unheard-of levels of intimacy as HTML5 delivers whole new strata of online behaviour that can be mined and turned into effective one-to-one communications.
Geo-targeting will become terrifyingly effective. The local coffee shop could measure how many cappuccino lovers are currently within a one-kilometre radius and send out an immediate, frothy-flavoured promotion direct to their mobiles.
Point-of-sale material will suddenly become a two-way conversation, enabling customers to answer those nagging questions about ingredients or provenance before taking the product from the shelf.
Technologists will no longer be defined as back end or front end. They will be able to build digital experiences faster, more cost-efficiently and unleash more creativity in the process.
It is reasonable to propose that the brands, advertisers and agencies that recognise fastest how to use HTML5 effectively will give themselves a massive commercial advantage. The real challenge is to identify which aspects of HTML5 technology offer the best marketing potential - and when is the right time to employ them. There is no point in creating a near field communication campaign, for example, until we know consumers are keen to embrace it and the hardware is in place.
In the dynamic marketplaces of China and India, mobile growth far outstrips landline internet. This trend is likely to be even more pronounced in Africa, where telephony infrastructure is almost entirely mobile-focused. The need for a platform that speaks to all devices across all boundaries is clear. Certainly clear enough for most Flash designers and developers to be rewriting their CVs and embracing HTML5. It is likely to be a shrewd career move.
Paul McCarroll is the deputy creative director at Kitcatt Nohr Digitas. Joe Lozito is the senior vicepresident, technology, of Digitas.