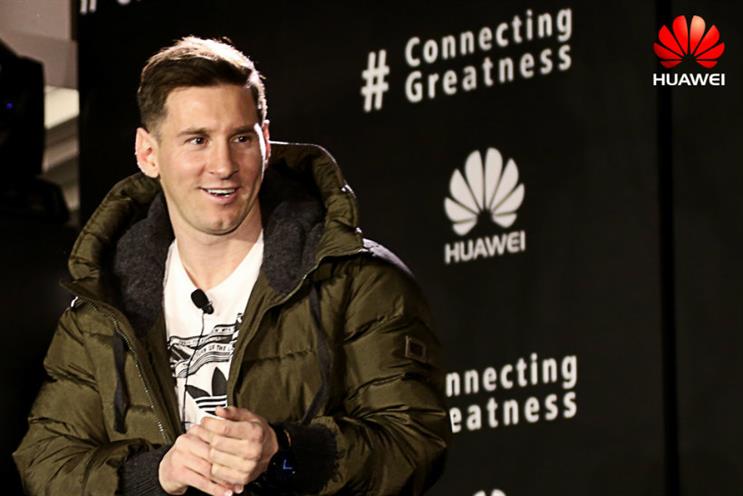 Huawei's sponsorship of the Argentinian footballer, who is widely considered the world's best footballer, comes as the stature of football continues to grow in China.
Chinese Super League teams are spending big money on signing footballers such as Jiangsu Suning, paying £38m for Alex Teixeira and the Chinese president is known as a huge football fan.
Huawei says the Messi sponsorship deal is in alignment with its strategy of striving towards "connecting greatness".
The Huawei brand has a huge presence in its native China but is less well known in markets such as Europe.
Huawei consumer handset business president Kevin Ho said: "Lionel Messi will help our brand to encourage people to focus, persevere and breakthrough; to connect with greatness, especially in Europe, Asia, and Latin America, where Huawei is devoting its efforts.
"We both honour the path we walked to what we have achieved, and with each new challenge we renew our commitment to find the path to success."
The sponsorship is not Huawei's first foray into football. It already has sponsorships with clubs including América, Santa Fe, Sporting Cristal, Arsenal, Atlético de Madrid and AC Milan, and players including Robert Lewandowski and Alexis Sánchez.
Huawei hopes the Messi sponsorship will give it greater traction in Europe.
Huawei Western Europe consumer business group president Walter Ji said Messi is the perfect partner because "the Western European regions are so passionate about football".
Ji added: "He has never been satisfied with his performance and is always working hard to improve.
"We value and share this thinking and have been investing heavily in innovation and talent to produce exactly the premium devices consumers ask for."
Messi is one of the most bankable sporting stars and his other sponsorship deals include a $140m (£97m) sponsorship deal with Adidas.