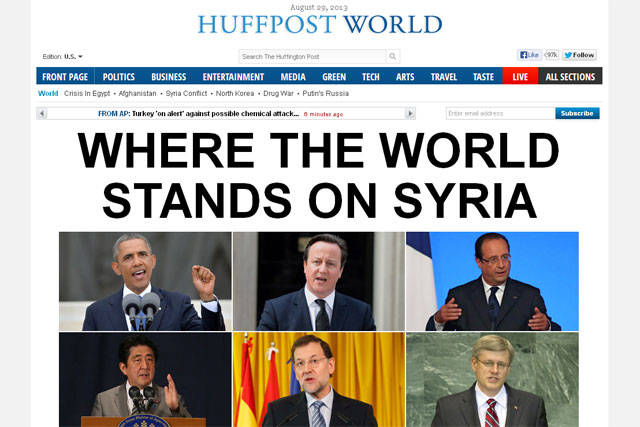 The Brazilian edition of HuffPost will join Abril's roster of 40 editorial websites and almost 30 titles available for tablets. The company also has six million application downloads, and nine tablets and smartphone apps ranked in the top ten
The new HuffPost will represent the site's ninth country and fifth continent of operation, and it hopes to tap into the consciousness of Brazil's more than 100 million Internet users. It is the fifth-largest online audience in the world and is tipped to grow 7.6% annually until 2016, according to e-Marketer research.
Arianna Huffington, chair, president and editor-in-chief of The Huffington Post Media Group, said: "I'm delighted to welcome Brazil to the HuffPost family.
"Brazil's rapid growth, vitality and creativity have placed the country at the centre of the global conversation. During my visits to Brazil and our partners' visits here, I have come to know and deeply respect the Abril team. And I'm particularly excited about partnering with them to use all the resources and tools at our disposal to tell the stories that need to be told and give Brazil's voices and perspectives an even greater platform for expression."
Fabio Colletti Barbosa, chief executive of Abril S.A, said: "To Abril, it will be one more important step in contributing to the dissemination of information, culture and entertainment in our country.
"The Huffington Post's position at the vanguard of digital content, along with Abril's Brazilian market knowledge, made this partnership possible. This partnership allows us to accelerate our entry into new digital business models in order to reach another segment of customers in Brazil, as Huffington Post has done with other partners around the world."
The launch of Huffington Post Brazil comes ahead of the country hosting the next World Cup and Summer Olympics. The site is also due to launch a German-language edition of The Huffington Post in partnership with Burda's Tomorrow Focus.
Last month, AOL launched HuffPost WorldPost, a new editorial offering, which will introduce a daily international hour-long programme to HuffPost Live through a partnership with think-tank The Berggruen Institute.
The Huffington Post's current international editions include the UK, Canada, France, Spain, Italy, Maghreb, and Japan, with more than 50,000 bloggers worldwide – from politicians, students and celebrities to academics, parents and policy experts – who contribute in real time on the subjects they are most passionate about.
Abril Group is one of the largest and most influential communication and education groups in Latin America, and publisher of the weekly news magazine Veja.
The group, founded in 1950, comprises Abril S.A., the company responsible for media and printing business, DGB, the logistics and distribution holding, and Abril Educação, which began operating independently from Abril S.A. in early 2010, following a corporate restructuring process.
The group also includes the Victor Civita Foundation, created in 1985 with the purpose of improving basic education in Brazil.