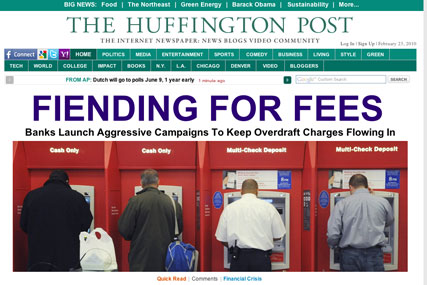 Adam Clark Estes, the editor of citizen journalism at the Huffington Post said in a blog post that HuffPost wanted to "provide student journalists with a national stage to showcase their work".

He said the blog would be putting out a call for student reporters to join its citizen journalism unit and would recruit around 30. These will include writers, and photo and video journalists to cover college issues. Clark Estes said students were the amplified voice of their generation.
"The same way that small town newspapers chronicle the history of a community, student journalists amplify the voice of a generation," he said.
"When there's a protest on campus or reactions to world events, reporters from campus newspapers and magazines are often the first to cover it. When it comes to capturing the zeitgeist of America's youth, student bloggers are inevitably the best."

As well as featuring content produced on university and college campus websites HuffPost said it also wanted to produce original content using its citizen journalism model.

"There will be weekly assignments, training events, crowd-sourcing projects, and most importantly, daily access to HuffPost editors."

The New York Times said its website, NYTimes.com, would collaborate with New York University's Arthur L Carter Journalism Institute to create a new local community news and information site covering the East Village in New York City.

The Local East Village site will be developed by NYU's journalism faculty and students and is due to launch in the autumn.

The site, which will be on NYTimes.com, will be edited by Richard Jones, a veteran journalist and former New York Times reporter. He will work with students, faculty and the East Village community to cover neighbourhood news.

NYU will coordinate its hyperlocal reporting with Mary Ann Giordano, a New York Times deputy metropolitan editor.

Brooke Kroeger, director of the Carter Journalism Institute, said: "This collaboration with The New York Times emphasises our commitment to the highest journalistic standards, in providing an innovative model source of news and information about and for our East Village neighbourhood."

The Local East Village is one of several collaborative journalism efforts The NY Times is exploring.

In March 2009, the paper began a similar project with the City University of New York Graduate School of Journalism for The Local Brooklyn site, which serves the residents of Fort Greene and Clinton Hill at NYTimes.com/fortgreene.

In Chicago, it publishes a local edition with news provided by non-profit newsroom the Chicago News Cooperative.

The East Village project will be followed by one in San Francisco, where the New York Times will work with the non-profit Bay Area News Project to provide news for the Bay Area edition of the paper.