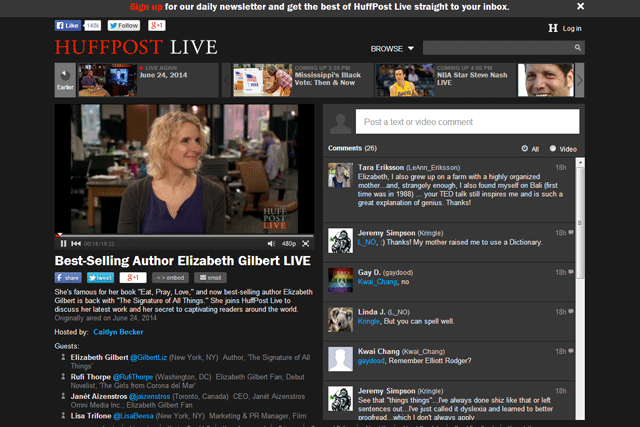 Huffington Post launched its HuffPost Live service two years ago with the remit to create "the most social video experience possible".
Talking to Campaign, Jimmy Maymann, chief executive of The Huffington Post, said the publisher is increasing its investment in video content, to further tap into the media consumption trends.
He noted that around a third of time spent online already involves watching video, and believes this is only set to grow – attracting advertising as it does so. He said: "At the end of the day, advertising needs to move to where the eyeballs are."

He hopes a deal with Vice and potentially other producers, will further boost Huffington Post's use of video as editorial, potentially on HuffPost Live and also elsewhere on the site.
He said: "We're very close to announcing a partnership with Vice Media. I think they're a frenemy right now, I really enjoy what they do. I think there's a small cannibalisation. They have a very strong millennial audience, which is not necessarily where we are the strongest.
"They have really invented a whole new space, which we're really excited about when you talk about video – suddenly you're seeing a digital content provider syndicating content and having their own show on HBO.
"It's a great testament to them, but it also opens the door for businesses like us. What's the programming that we could do along the same lines? We could potentially create programming that we could get a revenue stream from that we could syndicate."
Bringing news into the next century
Maymann said HuffPost Live currently streams eight hours a day, five days a week, and can attract more than 20,000 people dialling in via Google Hangout or Skype, but is ready to become a bigger force.

He said: "The millennials are not really watching a lot of TV, a lot of what they've watching is online. You need to find a way to bring news into the next century and the social media age, that's where I think online video becomes a super important vehicle.

"When we talk about HuffPost Live we now need to take a step back and see we should probably have done some appointment viewing, a little bit more programming.

"One of the things we're talking about with Vice is what are those programming pieces, what's the right thing for HuffPost to do that will appeal to our audience and at the same time bring us to the next level?

"Right now we have 100 million video streams on a monthly basis, we have 25 million unique visitors just going to that platform alone. So we're getting to scale, and it's just right now getting to profitablilty, so the next stage is how do we take HuffPost Live programming to the next level? That's what we're working on."

Read more from Jimmy Maymann in this week's Campaign