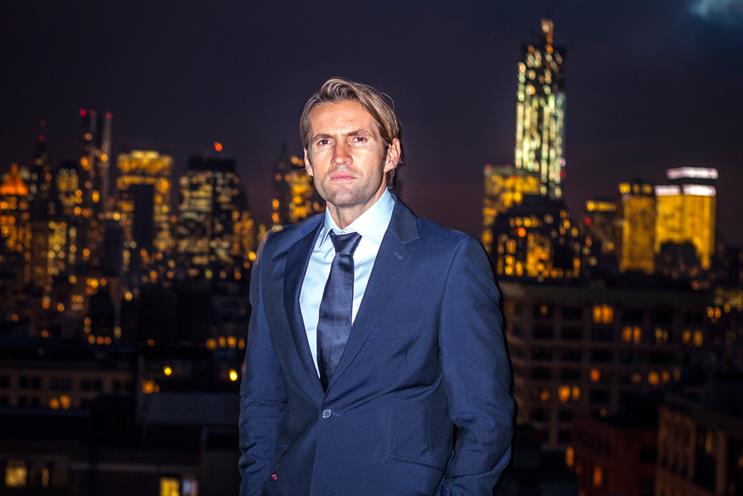 It takes a compelling vision and dynamic leadership to keep an entrepreneurial multimillionaire at his desk after an earn-out. For Jimmy Maymann, such motivation came in the form of AOL's chief executive, Tim Armstrong, and The Huffington Post's evangelical founder, Arianna Huffington.

When the 42-year-old sold his video company, GoViral, to AOL for an eye-watering $100 million in 2011, he admitted to the Financial Times: "I've made more money than I can spend in a lifetime." So what still gets him up in the morning?

"I do this because I really enjoy working in media," he says. "It was very exciting before the dotcom crash and, right now, we're in a different paradigm shift. What we talked about in the 90s, it's all finally happening."

Chief among the flux digital pioneers used to wax lyrical about was the disruption the internet would bring to established business models and, with it, the ensuing democratisation of knowledge.

Now ensconced as the chief executive of The Huffington Post, Maymann is helping to make some of those early visions a reality: "People who say HuffPost is like a newspaper have misunderstood. It was never just a newspaper online. If it was, it would never have worked.

"We've had more than 300 million comments since we started. We've had 55,000 bloggers publishing content on our platform. That is our call; that's our DNA."

HuffPost UK turns three this summer, and Maymann insists it is on track to report its first profit. The rise of online video has been a key tenet for AOL, underlined by last year's $405 million acquisition of Adap.tv. Maymann is convinced that, with video commanding a third of time spent online, "advertising will follow the eyeballs".

He says the ambition is to be the "CNN for the social media generation" and reveals HuffPost is "very close to announcing a partnership with Vice Media" around programming.
Paul Davison, the head of digital trading at Dentsu Aegis Network's Amplifi, believes AOL has made the right moves at the right time. He says HuffPost is building a reputation for being an open and flexible partner, offering brands a real alternative to the Mail and The Guardian.

That people now talk about HuffPost in the same breath as such established brands is testament to the business. HuffPost UK employs just 25 journalists, compared with more than 500 at The Guardian. The editorial team, led by Carla Buzasi, divides its time between creating original stories, curating content and repurposing wire copy.
'People who say HuffPost is like a newspaper have misunderstood. If it was, it would never have worked'
In terms of reach, the brand has forged its own path if not quite blazed a trail. According to comScore, HuffPost UK attracted 2.8 million unique visitors in May.
But traditional publishers are growing more digitally savvy by the day – in the same month, the Telegraph saw 8.5 million visitors, The Guardian ten million and MailOnline nearly 11 million.

Maymann says HuffPost's global reach is key to its strategy, having evolved from a US-only site in 2011 to operating in 11 markets with a combined audience of 94 million uniques.
Plans to launch HuffPost India will be announced next month, followed by two more markets this year. The speed of the international assault is paramount, Maymann admits.

"I think The Guardian or The New York Times, all these legacy news brands, have fantastic breadth and depth and a library you don't have when you are nine years old. But we have something else: no traditional media legacy," he says.

"Eventually, these guys will come back. You have seen now The Guardian has opened in Australia, they're in the US already and they're looking at potentially other markets, and The New York Times is doing the same. That is why we needed to be aggressive."

HuffPost's international expansion is reminiscent of the joint ventures and licensing deals publishers such as Hearst, Time and Hachette Filipacchi used for their brands around the world in the 90s and noughties.

The one fundamental difference between the two models is that where once established media companies used to track down ambitious, young publishers to partner with in local markets, Maymann's model works in reverse.
He is brokering deals with publishing houses steeped in tradition – including Groupe Le Monde in France, Japan's Asahi Shimbun Company, Prisa (which publishes El País) in Spain and Brazil's Abril.
Such partnerships ensure great media coverage, wider interest in the marketplace and an established sales force. But it begs the question: what's in it for the established publishers? After all, they're trying to make the transition into digital operations themselves.

Maymann concedes he harboured the same concerns, but they dissipated overnight when he went to France and brokered HuffPost's first partnership with Louis Dreyfus, the chief executive of Le Monde.
"Dreyfus told me: 'You know what, I've looked at the cannibalisation. I think with the audience you're going after, there's potentially a 15 to 20 per cent overlap with my audience. Let's park that for a second. At the same time, I talked to my news room, I said 'can we accelerate digital and and put digital first?'

"My newsroom said forget it, it's not going to happen. And the thing is, as soon as we started [this Huffington Post partnership] the unions came to my office and wanted to have a conversation about how Le Monde is going to move forward.
"And no matter whether I had done it with you or not, I know that you were coming to the French market annyway."

According to Maymann, Dreyfus concluded: "I would rather be part of it, learning from you and hopefully showing my newsroom how digital can be done, and have two businesses that are successful. And, as digital takes off, I believe the cake will be bigger and that there's enough room for both of us."
Having done another 11 partnerships since then, Huffington Post's chief executive is is growing bolder by the day.
Whether the partnerships prove to be life-saving interventions or Faustian pacts for traditional publishers remains to be seen. But, with Maymann at the helm, realising some of those earlier visions of the web, expect HuffPost's momentum to continue.
The lowdown
Age: 42
Lives: New York
Family: Wife and three children (ages 2, 6 and 11)
Interests: Triathlons