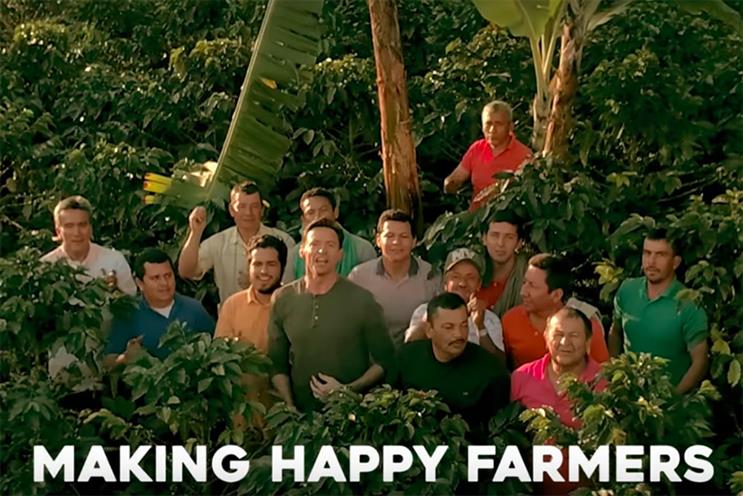 Home to towering mountains shrouded in clouds, Huila, Colombia is home to sought-after coffee beans that thrive in the area's unique combination of morning fog and gentle afternoon sun. According to the region's governor, tens of thousands of families rely on beans harvested from steep mountainsides, exhausting work whose efforts make their way into thousands of cups of coffee daily worldwide.
Among the many companies that distribute beans from Huila, Laughing Man Coffee, which reinvests a portion of its profits into the farms it buys from, is making a renewed bid to stand out from the competition. This week, they debuted a new campaign from RTO+P that highlights their support of community initiatives in Huila for housing improvements and college scholarships.
"The foundation of the campaign is that happy farmers make better coffee," says RTO+P president and CCO Steve Red. "The intention was to get consumers to understand that every time they purchase Laughing Man, they're having a positive effect."
The campaign is the first creative since the agency began a collaboration last year with Keurig. It's also part of a relaunch for Laughing Man, which—after seven years of promoting better working conditions for coffee farmers—wanted a refresh, says Red. "Fair trade is becoming kind of the norm, which is great, but we needed to show what's different behind this cause-related brand and [figure out] how to punch above the fray."
His team drew on lessons from previous work with Morningstar Farms, a vegetarian foods subsidiary of Kellogg, as they shaped the messaging. "Purpose-driven brands are attractive to consumers, but ultimately, statistics say they don't feel driven to purchase unless they see what's in it for them," says Red. For Morningstar that meant emphasizing the potential health benefits of skipping meat; for Laughing Man, it was helping consumers identify a personal benefit to supporting co-op farmers. "If you give back and you make the lives of the farmers better, they'll grow better coffee, and you get better-tasting, richer coffee," Red says.
Of course, it also helped that Laughing Man has, as Red puts it, a "special weapon"—cofounder and spokesman Hugh Jackman.
An admirer of Paul Newman's philanthropy through Newman's Own, Jackman has long held an interest in fueling social enterprise with his star power. Laughing Man's genesis was a 2009 trip with a Christian charity to Ethiopia that introduced Jackman—a habitual coffee drinker—to fair trade farmers. In 2011 he founded the nonprofit, opening two cafes. Keurig bought the supply chain in 2015 and introduced Laughing Man K-cups. The RTO+P campaign coincides with the introduction of whole bean retail.
While Jackman's presence is a boon to the brand, it created some complications—or at least slowdowns—during production for the spots. Even in remote areas of Colombia, Jackman is a famous face, and everyone wanted to meet him wherever the crew went. "I've never been around that kind of Beatlemania," said Red. "True to what you might expect, he is so charming and would take as many photos with people as he possibly could."
Fanbase aside, the rest of the production was generally smooth, and the resulting spots aim to present a multifaceted view of the communities that Laughing Man supports. Several focus on individual farmers and the dreams of their families, like going to college or improving their home. Others are a visual overview of Huila that present the region as a joyful, tight-knit community. "Production was really inspiring," said Red. "A lot of the people there don't have a lot of means, but they live very happy and optimistic lives, and it comes through in meeting them."
The all-digital campaign is currently rolling out with targeted placement and paid social.