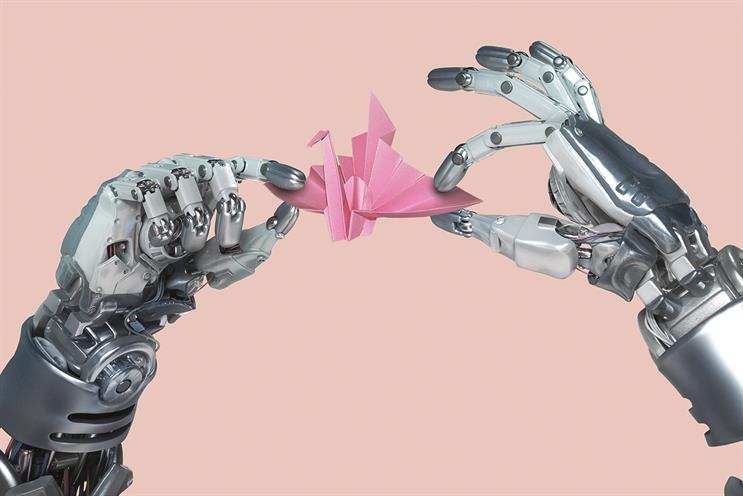 Businesses are reaping the benefits of embracing artificial intelligence (AI) and chatbots, such as cost-savings and productivity boosts. Juniper research estimates that AI will save as much as $8bn a year by 2020, up from $20m in 2017.

Marketers, too, are finding that AI is helping them drive huge benefits in efficiency, helping them create tailored outcomes with more suitable pricing models and greater transparency. In fact, AI is creeping up the marketers' agenda. According to Newbase, nearly 20% more of them prioritise AI now than in 2016.

When it comes to creativity, there is a growing recognition that AI and creatives can work together to product great results. "JFK unsilenced", for The Times/News UK and Ireland, is a standout example of this union: in 2018 the world was fi nally able to listen to the speech US President John F Kennedy did not get to deliver in Dallas on the day he died.

This achievement had a global impact, with social media driving 26 million impressions and editorial reach of more than one billion. The delivery of this was only possible because of cutting-edge AI tech that enabled the recreation of JFK's voice. But the vital initial spark of inspiration was human, from Rothco's executive creative director Alan Kelly – a self-confessed JFK nut. While watching a documentary that mentioned JFK was on his way to make a speech at the Dallas Trade Mart, he imagined the potential of the idea of using tech to bring JFK's never-heard words to life.

"Data and tech only really fly when human thinking and vision are brought to bear on it," Paul Hughes, founding partner and strategist at Rothco, says. "AI enabled us to bring a brand promise to life for The Times: the promise of 'untold stories'. We were able to tell this previously silenced speech by combining artificial and human intelligence."

L'Oréal CMO Stéphane Bérubé agrees that "AI is an enabler". Rumman Chowdhury, responsible AI lead at Accenture, says it's never the case that AI "tells" the human what the idea is, adding: "The creative director is using AI to harness the best ideas. Automation opens up room for more creativity. Properly harnessed AI moves us away from limitations and appeals to creative minds because it helps us express ourselves more eff ectively."

And freeing up "human" time is one of AI's greatest virtues. Technology and the consumer change rapidly – the only constant is an ever-increasing pace of change. AI keeps up and carries the workload.

According to Christine Connor, managing director, Accenture Interactive UKI, AI will "not replace the creative process" because there will always be the need for "a moment of intuition and a leap of faith, which is largely a human creative process".
The gift of time and thought
As AI provides opportunities for augmenting creativity, automation means creatives are free for more strategic thinking. In addition, AI enables ideas to scale, test and measure more easily and quickly, producing hundreds of possible iterations of an idea instantly, which a human never could.

Even more important is AI's ability to personalise the experience through highly targeted content. For example, L'Oréal uses AI for social listening, through which it can recognise images on social media on a "huge scale". This enables the brand to "identify trends across the board", says Bérubé, adding that this has revolutionised its consumer research. "By personalising our interactions with consumers we get to understand them and react accordingly. More than ever before, we will be able to predict and forecast marketwide trends to serve the consumer."
Rather, AI will enhance the existing process. For Connor, it brings the ability to time and tailor a creative message to ensure most relevancy to the individual and the human ensures the idea retains its "emotional resonance". A marriage made in heaven, some might say; although, as all relationships, there are bound to be glitches to fix along the way.
I Robot pizzas
Barnaby Dawe, outgoing global CMO of Just Eat, predicts that the future – less than 10 years away – is a perfectly judged pizza on demand, in a world with intelligent assistants everywhere.

"Improved machine-learning models and ever-increasing order volumes will make predictions of demand more accurate and allow preparation ahead of time, so that it's ready to leave, or even on its way, by the time the customer orders. I'll say 'Let's have pizza for dinner,' and my AI assistant will hear me, know who is in the house, and arrange it all. Ten minutes later a robot will be at my door with the food."
Smoothing a rough ride
"Sectors most under pressure to adopt AI technology and keep up with its ascendancy are those where customer service plays a deep, central role", Nick Tate, experience strategy lead, Accenture Interactive UKI, says. "Sectors where there are clear pain and pressure points in the customer journey are obvious targets for using AI to smooth surfaces and provide better experiences."

Building in more empathy to the interaction, by showing a deep understanding of the customer, is at the heart of what AI brings to marketing, facilitating more useful and relevant interactions. "The shift to empathy in marketing is gathering signifi cant pace but AI is going to absolutely supercharge it," Tate says. He emphasises that early AI adoption is an opportunity for every sector, but "whether marketers have the urgency to use it, or the mindset to think it's important, is another question".

Finding and inputting the right data is key to whether AI produces the best outcome, according to Alexandre Naressi, managing director at the Accenture Interactive Innovation Centre in Sofia. "The more data you can feed into algorithms, the smarter AI gets. So, the brands that have a massive amount of customer interaction data are in a better position – but the machine is only as smart as the people who feed it and the quality of what it is fed."

The biggest risk in this AI-powered future is that of dehumanisation, of business and life in general. It's essential that brands do not lose the human touch. As Barnaby Dawe, outgoing global CMO of Just Eat, says: "There are some clear cases where automation works well: simple, repetitive tasks, or even complex ones where additional data will give a better outcome.

But humans are better at reacting to unlikely, extreme or unpredictable scenarios. It's only by maintaining a human touch that AI can add the most value to businesses. Investing in people and upskilling them is a big part of that." Connor adds: "We are encouraging our teams and clients to think of AI as a new team member that is fully integrated into the full marketing strategy and the creative mix. That is when you can start to realise real value from AI."
How AI can support the creative and marketing process
Insight- AI can provide deep and meaningful data insight to enable marketers to really know their consumers and target them specifi cally.

Ideation- AI can ideate and iterate basic ideas to co-ordinate creative direction and guide the process. AI can, in itself, unleash new ways of doing things, such as voice processing.

Execution- AI can aid execution at scale – driving multiple versions, while maintaining version control, and achieving mass personalisation.

Activation- AI can help achieve transparency throughout the buying process and will optimise investment at every stage with ever-improving efficiency and targeting.