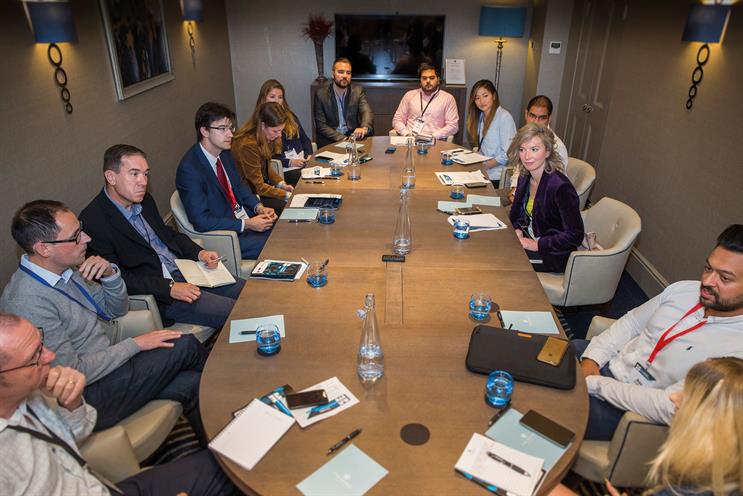 There has been a surge of interest in affiliate marketing recently; increasingly sophisticated consumers, the rise of adblocking, media fragmentation and the advent of big data have created a perfect storm. Forrester has predicted affiliate marketing spend will rise to nearly $4.8bn this year, and it's set to increase – to an estimated $6.8bn by 2020.
Affiliate marketing rewards a network of affiliates for promoting a product or service on behalf of a business. When used to its full potential, it's a powerful weapon in the marketer's arsenal. To explore how marketers are using it and how it's set to evolve, Affiliate Window gathered some of the top brains from brands and agencies at the Marketing Digital Exchange event, for a fast-paced roundtable discussion.
Content is vital
With a wide variety of brands around the table – from fashion to food and finance – approaches to affiliate marketing differed. But the delegates were unanimous on one point – good content is vital to a successful affiliate-marketing strategy.
"You're working with bloggers that have a genuine interest in the brand," said Cassandra Gowing, global social media manager at All Saints. "It really speaks to their followers as well in terms of the content they're producing."
Similarly, the Leon fast-dining chain makes use of affiliates' enthusiasm for food trends. "We latch onto a lot of the food trends; the gluten-free, vegetarians and vegans are very vocal through digital," said Emin Cheese, social community manager at Leon. "We have a lot of influence and skew – the love of our brand promotes us."
A brand's content strategy can make or break its affiliate marketing programme, said Paul Stewart, account director at Affiliate Window, citing the example of a large fashion retailer. "It has a very definite content strategy; it has a centralised 'hub' to distribute collateral and engage with content publishers. People can request products, meet the team and give vital feedback on how to improve their relationships."
A vital part of that strategy is that some content producers are paid on tenancies. "It's not necessarily always going to be sales-driving," Stewart explained. "They see more traffic because they understand the limitations of tracking reliant on clicks, and value attributed on last touchpoint. They undoubtedly get more original content because of it."
The measure of success

One of the biggest challenges facing marketers working in the affiliate marketing space is which metrics to use to define success. No other channel has a bigger variety of promotional methods, meaning that it's impossible to apply a one-size-fits-all approach.
"The value is better understood in different ways depending on the nuance of that particular publisher," said Stewart. The solution is to adopt a "testing mentality", he advised. "Have that testing budget and clearly define what is your business goal. Have the KPI to find what's successful and test it."
Affiliate Window global client strategy director Kevin Edwards chimed in, noting the importance of data in defining the customer.
"What we're increasingly starting to do is say to our clients: 'Pass back additional data parameters so that we can start to model up what a customer looks like from a cashback versus voucher customer or a site such as Money Saving Expert,'" he said. "We need to join those two sets of data up for the publisher and advertiser."
The human factor
Just as important as defining success through the proper metrics is the marketer's relationship with affiliates. Treating affiliate marketing as a branch of digital marketing is a mistake, said Matthew Gardiner, director of acquisition marketing at UnderTheDoormat. "What's often missed and what makes a difference between something doing OK and something working is the humanrelationship side," he said. "It isn't just a digital silo. It's about building human relationships with the affiliates, with the partners in those content sites."
Tarun Nayyar, performance marketing manager at RSA/More Th>n, agreed that marketers need to adopt a more personal approach to partners on content sites. "Take pet insurance; what we're trying to do now is approach large pet food websites and try to take a slightly different approach to it, to have that direct partnership," he explained. "We're being a bit more personal and having those relationships, opening up conversations with these websites.
Everyone has been quite receptive because they're also looking for ways to try and either earn extra money through someone like ourselves or have us promote them."
---
"We latch onto a lot of the food trends; the gluten-free, vegetarians and vegans are very vocal through digital...We have a lot of influence and skew – the love of our brand promotes us." - Emin Cheese, social community manager, Leon
"We say to our clients: 'Pass back additional data parameters so that we can start to model up what a customer looks like from a cashback versus voucher customer or a site such as Money Saving Expert.' We need to join those two sets of data up for the publisher and advertiser." - Kevin Edwards, global client strategy director, Affiliate Window
"Have that testing budget; clearly define your business goal. Have the KPI to find what's successful and test it." - Paul Stewart, account director, Affiliate Window
"It isn't just a digital silo. It's about building human relationships with the affiliates, with the partners in those content sites." - Matthew Gardiner, director of acquisition marketing, UnderTheDoormat
---
*Group photo (Bottom l-r) Nick Fuller senior manager, acquisition, individual giving, Cancer Research UK; Kevin Edwards, global client strategy director, Affiliate Window; Rob Merrington, head of marketing communications, EDF Energy; Matthew Gardiner, director of acquisition marketing, UnderTheDoormat; Susanne Svensson, senior marketing manager, Northern Europe, Expedia; Emin Cheese, social community manager, Leon; Paul Stewart, account director, Affiliate Window; Tarun Nayyar, performance marketing manager, RSA/More Th>n; Hoiyan Hoang, digital marketing manager, YO! Sushi; Shailen Joshi, head of digital marketing communications, Lloyds Banking Group; Alya Kepa, brand manager, STORM of London; Rav Dhaliwal, head of performance marketing, Marks & Spencer; Cassandra Gowing, global social media manager, AllSaints