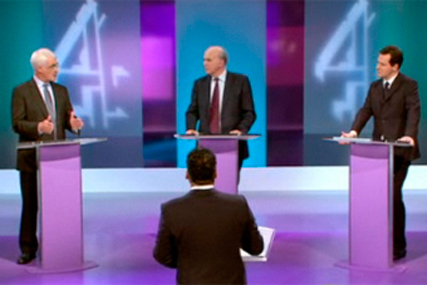 Political Twitter body Tweetminister's results chime with those of pollsters who are also predicting a very close General Election race.
The political Twitter group, which aims to open up politics, will continue to analyse Twitter as the election progresses and see if word-of-mouth mentions of the candidates can help to predict which ones will be the winners on election day and which ones will be the losers.
At this early stage, with little more than a month or so to go, it is predicting a small Labour majority or a hung parliament. A tough fight between the Liberal Democrats and the Conservatives in a number of key marginals in the South West is tilting towards the Lib Dems.
Overall it puts Conservatives on 34%, Labour on 35% and the Liberal Democrats on 22%.
This gives Labour a more favourable showing than most recent polls. Yesterday's YouGov daily poll put the Tories on 39% and Labour on 32%.
Tweetminister is taking data from all 376 constituencies represented on Twitter, which includes constituencies with a candidate using Twitter, frequently mentioned constituencies, and high-profile constituencies such as key marginals and those of cabinet and shadow cabinet members.
Tweetminister will also be able see if the upcoming live TV leader debates have much of an impact.
The first live UK TV election debate took place last night on Channel 4 where the Chancellor Alistair Darling took on his Conservative and Lib Dem rivals George Osborne and Vince Cable respectively.
Read coverage of that debate on Brand Republic's Red, Yellow and Blue election blog.
So far it has already analysed two million tweets for the study, which takes its inspiration a project in Japan's 2009 General Election where a group of software engineers and PhD graduates from Tokyo University analysed the correlation between "online buzz" and election results.
Tweetminister has also listed the 10 most influential electoral candidates on Twitter calculated by a ratio score of the frequency of mentions verses the number of personal tweets.
The most influential tweeters include Labour's Tom Watson, David Miliband and Harriet Harman as well as Lib Dem leader Nick Clegg, Tory chairman Eric Pickles and novelist Louise Bagshawe.
More on Brand Republic's Red, yellow and blue election blog