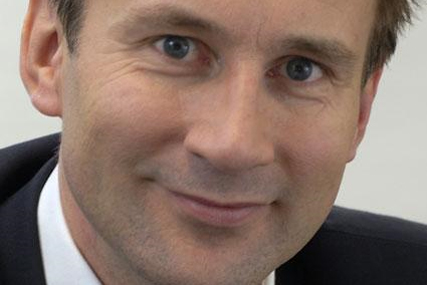 In a note from Hunt to Cameron, which was read out at the Leveson Inquiry yesterday afternoon, Hunt said he was "concerned" about business secretary Vince Cable's decision to refer the bid to Ofcom in November 2010.

In the previously undisclosed memo Hunt said it would be "totally wrong to cave in" to News Corporation's opponents and that if the Government blocked the deal "our media sector will suffer for years". The full text can be read below.

The memo was sent on 19 November 2010 and on 21 December Cable was stripped of his responsibility for the bid after telling undercover Telegraph reporters that he had "declared war" on News Corp chairman and chief executive Rupert Murdoch.

At the time an alliance of media companies, including Guardian Media Group, the Daily Mail & General Trust and the BBC, had begun to make joint representations against the bid claiming it would threaten media plurality.

Cameron's decision to hand over the "quasi-judicial" responsibility to Hunt despite knowing he has expressed partisan opinions in private, after sacking Cable for doing the same has raised many objections.

Yesterday Harriet Harman, Labour's deputy leader and the shadow culture secretary, said: "It is clear that David Cameron gave responsibility to Jeremy Hunt for deciding on the BSkyB bid when he knew only too well that the culture secretary was actively supporting the bid.

"The prime minister should never have given him the job. It is clear that Jeremy Hunt was not the impartial arbiter he was required to be, and he should already have resigned."

Hunt was close to approving the bid in July until opposition to it escalated amid the hacking crisis engulfing News Corp's Sunday tabloid the News of the World and News Corp made the decision to back out.

In response to the hacking crisis Cameron commissioned the Leveson Inquiry into the culture, practice and ethics of the press.

When the extent of the correspondence between News Corp lobbyist Frederic Michel and Hunt's special adviser Adam Smith was revealed last month Hunt made a firm statement to parliament denying any wrongdoing.

In the House of Commons Hunt said he "made absolutely no interventions seeking to influence" the judicial decision and that all his contact with Michel was "minuted".

However, as part of correspondence revealed in Michel's evidence yesterday it emerged that Hunt had exchanged text messages with the News Corp lobbyist including after Michel complemented his performance in the House.

Smith will give a second day of evidence at the Leveson Inquiry today and will be followed by permanent secretary Jonathan Stephens, who will be quizzed on whether he gave permission for Smith to be Michel's point of contact.

Yesterday Michel's evidence showed more than 1,200 emails, texts and phone calls were exchanged between him and Smith in the period following News Corp's first bid for Sky in June 2010 until it pulled out in July 2012.

Hunt and Cameron are both expected to give evidence to the Leveson Inquiry next week.
Culture secretary Jeremy Hunt's memo to prime minister David Cameron
James Murdoch is pretty furious at Vince's referral to Ofcom ... He doesn't think he will get a fair hearing from Ofcom. I'm privately concerned about this because News Corp are very litigious and we could end up in the wrong place in terms of media policy.
Essentially what James Murdoch wants to do is to repeat what his father did with the move to Wapping and create the world's first multi-platform media operator, available from paper to web to TV to iPhone to iPad. Isn't this what all media companies have to ultimately? And, if so, we must be very careful that any attempt to block it is done on proper plurality grounds and not as a result of lobbying by competitors.
The UK has the chance to lead the way. But if we block it our media sector will suffer for years.
In the end, I'm sure sensible controls can be put into any merger to ensure there's plurality. But I think it would be totally wrong to cave into the Mark Thompson/Channel 4/Guardian line that this represents a susbtantial change of control given that we all know Sky is controlled by News Corp now anyway.
What next? Ofcom will issue their report saying whether it needs to go to the Competition Commission by 31 December. It would be totally wrong for the government to get involved in a competition issue which has to be decided at arms length.
However, I do think you, I, Vince and the DPM should meet to discuss the policy issues that are thrown up as a result.