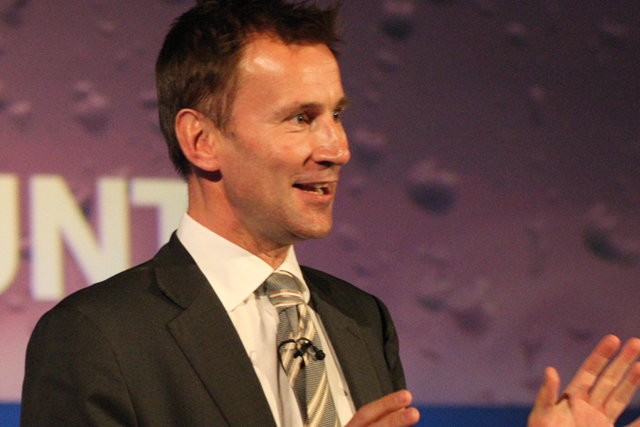 Hunt, who took a particular interest in developing plans for a local TV network while still in opposition, said: "A series of individual stations could be more feasible and faster to deliver".
In January, Hunt set out plans for a centralised national channel to provide syndicated programming, ad sales and act as the hub into which local channels could feed.
One of the bidders to run this national channel, a company called Channel 6, bid to broadcast a high quality 24-hour national channel, with the programme budget of Channel 5. Local TV franchises could opt out, according to the amount of news and content their area could deliver.
The Department of Culture, Media and Sport effectively ruled that possibility out today (2 June) by saying Hunt was now considering a "bottom-up" approach of individual licensed stations, rather than a centralised "top-down" approach, although he has not yet taken a final decision.
The turnaround comes after a consultation into local TV plans by the DCMS brought around 140 responses, with around two-thirds of these favouring a network of locally-based independent stations over a national channel.
A number of respondents also questioned the prospect of any national channel achieving proposed annual ad revenues of £15m. That figure was the amount Nicholas Shott's independent report in December on the commercial viability of local television stated would be needed per year, through an "underwritten national advertising contract" for at least the first three years, to have confidence in commercial viability.
It is now likely that £40m funding for an initial localised network of 10 to 20 stations will be provided from the licence fee to cover set-up costs and three-year running costs.
Hunt said: "The consultation showed that there is incredibly strong support for the principle of truly local TV.
"I have been particularly struck by the large number of local groups – particularly outside London – who are keen to deliver this for their own communities.
"I have also met local community groups and media organisations up and down the country and have been impressed at their enthusiasm for local TV.

"While I have not yet taken a final decision, it may be that a series of individual stations is the best way to deliver local TV."
Hunt is expected to set out final proposals by the end of July.