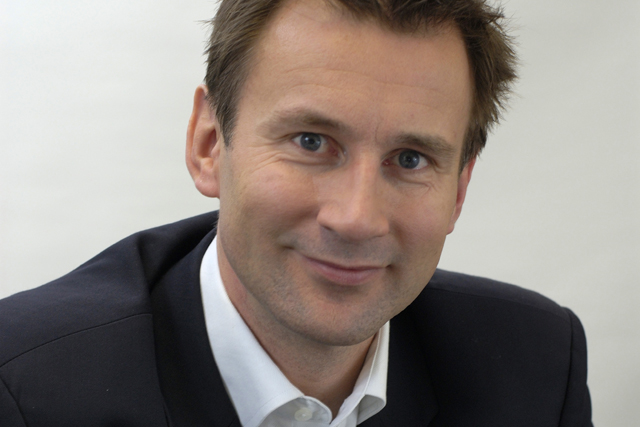 Last month, Hunt confirmed that the Government had changed its policy on local TV. Instead of looking to licence a national "spine" (as was announced in January), he would aim to develop a network of individual stations.
The Department for Culture, Media and Sport (DCMS) said in a statement that the Government was committed to acting to address the technical and commercial barriers to developing new and thriving local TV provision, broadcast on digital terrestrial television.
The DCMS said that to make its plans "feasible", a package of geographic interleaved spectrum would be allocated and managed by a new licensed multiplex company, with the licences awarded by Ofcom.
The Government would also introduce secondary legislation to ensure the local TV services were given "appropriate prominence" on electronic programme guides, have high numbers on DTT and were on the front page of cable and satellite platforms.
Hunt said: "Local media is a vital part of local democracy and plays an important role in holding institutions to account. Audiences want more local content that's directly relevant to what's going on in their own communities, which is why it's one of my priorities to address the almost total lack of local TV in the UK."
Any company can bid to operate the regional multiplex and a spokeswoman for the DCMS said as the amount of spectrum being reserved was likely to be more than was needed for local TV, additional capacity could be monetised by the winner.
Hunt said: "I believe creating the right conditions for viable local TV will bring about a significant change in the media market. After careful consideration of the responses to the local media action plan, I am confident that targeted action from the Government and industry can put local TV on a strong and sustainable footing."
Although the framework does not include a national spine, the DCMS said local TV businesses could come together into a network if it "makes commercial sense" and it would be for the bidders to demonstrate their commercial proposition to Ofcom.
Hunt, who has been a vocal supporter of local TV, added: "There is great scope to contribute to growth in our creative industries, develop local journalism and help bring communities together around a shared voice."
Last week, Marketing revealed the London Evening Standard was looking to bid for one of the Government's proposed local TV channels and had held meetings with the DCMS about the plans.
In January, Hunt opened a consultation asking media companies for expressions of interest in running a new national advertising-funded digital terrestrial channel, something he then saw as the starting point for his local TV vision.