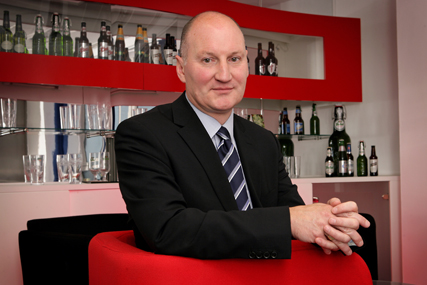 Mark Hunter's task is to put some fizz back into a brewing market that's gone as flat as a can of Carling left open and untouched well after the party has ended. It's not that the party is over for Carling, still the UK's biggest beer brand after 30 years and the flagship of the stable at Molson Coors UK, where Hunter is the chief executive. But there's no escaping the fact that Carling has to fight its corner in a market whose problems the term "challenging" barely begins to describe.
Hunter lets the facts speak for themselves. In 1971, beer accounted for 70 per cent of alcohol consumption. Now it's 40 per cent, thanks mainly to cider's growing popularity and a resurgent spirits market.
In 2004, Molson Coors delivered a UK operating profit of around £80 million. In 2007, it made about £50 million, of which about 80 per cent disappeared the following year through cost inflation. The company currently makes just 2p profit on a pint.
Meanwhile, Hunter has had to deal with the legacy of the company's ill-fated domination of the market for alcopops and the withdrawal of Hooper's Hooch after the huge backlash against them.
Enough to drive any brewing industry marketer to drink, you might think. Hunter, though, continues to take a sober approach. A marketing spend of around £80 million - which he has steadily increased each year - has enabled him to stabilise the business, pursue a policy of putting value ahead of volume and extend his portfolio of brands through what he calls "relentless innovation" in an industry that's seen precious little of it: "The alcohol market has offered nothing much that's new since Boddingtons introduced the widget in 1992."
And, more importantly, he's confident enough to predict that the company will double its profitability on each pint by 2012.
It's a promising start, but Hunter acknowledges that real progress in changing fortunes can only be achieved by the brewing industry as a whole. Creating a level playing field by raising the level of duty on cider would help, he suggests. So would a halt to increases in excise tax on beer that, he claims, will have gone up 50 per cent by 2013 if it continues at its current rate.
At the same time, there remains the challenge of how the industry protects itself by championing responsible drinking. "We've been doing a reasonable job but there's more to be done," he admits. "Sharing a beer with friends is a simple pleasure. We shouldn't allow it to be demonised."
Hunter says tabloid reporting of celebrity drink-fuelled antics doesn't help his cause, although he agrees the industry has to be seen to keep its house in order.
Of equal concern to him is supermarkets selling beer at "pocket money prices", not least because it drives down the value of brands and threatens to commoditise the beer market: "We recognise it's tough for supermarkets but we are open to the notion of minimum pricing."
More controversially, he supports banning the mention of price in alcohol ads apart from those at point-of-sale. He has put forward the idea for consideration by ISBA, where he is the president, and by the rule-making Committee of Advertising Practice. "We can't make a virtue out of alcohol strength so we shouldn't be able to make a virtue out of price," he declares.
Whether his argument will win out is an open question. There are concerns about whether such a move would be legal and if it would force other product categories to follow suit. Nevertheless, it's symptomatic of a leadership style focused on what he says is the need to re-engage with consumers and broaden the penetration of the Molson Coors brands.
His time as the chief commercial officer for Molson in Canada taught him about taking on too much, getting a top-quality management team around him and grasping the nettle at an early stage.
In the UK, he has pinpointed 107 "promotable" people and wants to get that figure up to 300 in the near future. Some "necessary churn" means that 70 per cent of his leadership team are in new roles. They include Chris McDonough, hired from Muller in February as marketing director. "He will see things through fresh eyes," Hunter says.
Indeed, some fresh thinking has already been applied to an agency roster that includes Beattie McGuinness Bungay, the creative agency for Carling and Cobra; Publicis, which looks after Singha Beer; and ZenithOptimedia, which handles all media planning and buying.
BMB and Carling, in particular, continue to innovate, and during the World Cup launched a series of "live" ads, which featured the scores of matches that had just been played. Cobra, meanwhile, unveiled a £5 million ad campaign in the summer that played on the brand's association with curry.
The Molson Coors roster no longer includes Leith, though, after its Coors Light account was moved into VCCP this month. The move ends a relationship between Leith and Coors beer brands stretching back two decades. But Hunter says: "We felt there was more that could be done for Coors Light. For three or four years, we've just been going around in circles with it."
Hunter is nothing if not forthright, as he proved at the IPA lunch in April when he suggested that agencies must evolve or die. "I was trying to be provocative by dropping a pebble in the water," he says. "But I do think agencies aren't keeping pace with the challenges and pressures that the likes of social media put on clients' businesses."
He'll certainly need his agencies to be up to speed over the coming months as Project Bittersweet, a 20-month initiative about encouraging more women aged 18 to 34 to drink beer, will culminate with a major product launch next year.
It will be no mean feat to boost beer's appeal to female customers, who account for 14 per cent of sales in the UK, compared with 25 per cent in North America. Women think beer is too high in calories and leaves them bloated. They find the taste too bitter - and they certainly don't like the idea of drinking it straight from the bottle. "The danger is that you develop something that isn't really a beer, more a fancy alcopop," Hunter says. He's certainly had his fill of those.
THE HUNTER LOWDOWN
Career advice from Fergie
Sir Alex Ferguson unwittingly set Mark Hunter on his career path when the then St Mirren manager told his boys' team right-back he was unlikely to make it as a pro. Nevertheless, the pair have kept in touch, mainly because of Hunter's involvement in sponsorship of the Worthington and Carling Cups. Sitting together under the Old Trafford floodlights, Hunter admitted to his fellow Scot how he would have loved to have been playing on such a night: "Alex said he was relieved I'd got a proper job."
Playing his cards right
He emerged from Strathclyde University with an honours degree in marketing and business administration, gaining his early commercial experience at Hallmark Cards and Bulmers.
Bass beckons
He joined Bass Brewers in 1989, working in Scotland before moving south to run its Carling business and subsequently joining the Bass Brewers board as marketing director.
A marked man
Coors, which bought the Carling brand in 2001, earmarked Hunter as a potential top manager. It asked him to take its "readiness route" and, in the wake of the company's merger with Molson, named him chief operating officer for Molson in its Canadian home market. He became the Molson Coors UK chief executive in 2007.