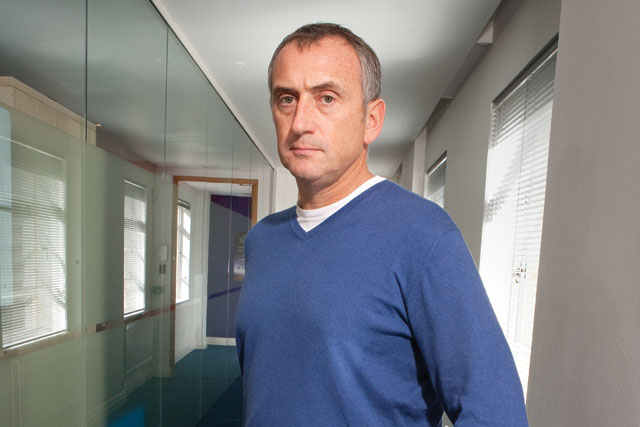 The last time one of our sister magazines profiled Neil Hurman, he was pushed to admit that there had been a gadfly aspect to his career progress.
"I'd be lying if I said I don't get bored easily," he confessed. And of course this admission made perfect sense as regards the way his curriculum vitae looked at that point. He had been a bit like the hero of the Woody Allen film Zelig.
He had been in at the very ground floor of the late 80s media revolution as a TV buyer at Ray Morgan and Partners as it transformed, as if by magic, into Zenith Media. He then joined the media department of a full-service advertising agency, Leagas Delaney, just as this was becoming perversely fashionable, rising in short order to become its media director.
And then, after a cameo appearance as a dotcom entrepreneur (a phase almost everyone went through around the turn of the century), he only goes and pops up, rather improbably in some people's eyes, as the ad sales director of Mirror Group Newspapers.
By the time we had caught up with him again in 2006, he had departed the Street of Shame, had been a managing partner at Manning Gottlieb OMD and had just taken on an OMD UK role as strategic development director.
So clearly, you would assume, by now he must be at a social media agency or doing his bit to reinvent barter. You would be wrong. Hurman has clearly found a cure for itchy feet. Last week, he was appointed to the new role of chief planning officer for OMD EMEA.
Just to underline continuity, he will still take a lead role on OMD's Renault Europe account, which he helped win as part of a centralisation process in 2008 and which has been the main focus of his agency role over the past couple of years. If he doesn't watch out, he'll soon be celebrating a decade in the bosom of the OMD family.
Reporting to the OMD EMEA president Nikki Mendonca, Hurman's new role will be to ensure that OMD's planning product is consistent and of the highest possible standard across the region.
Hurman says of his main aims: "It's about ensuring that the quality of our output is raised across the board, across every market, every day. It's about how we focus clearly on excellence."
And Mendonca adds: "As Renault continues to represent a cornerstone of the OMD EMEA business, Neil will continue to lead the strategic communications agenda for them but will now also extend his considerable expertise across our planning output within the network."
So, of course, there are aspects of the new role that will take him into uncharted territory - he's going to be on the road far more than he's ever been used to. He says he's looking forward to that aspect of things. As for the way he sees the role evolving, he concedes that it might involve the odd bit of troubleshooting - but he states that, for the main part, this will be very much a community project.
He explains: "There are two forms of leader. Either you focus on getting the product and the machine right, or you seek to become a super-planner yourself, flying around sprinkling magic pixie dust on every brief.
"I would suggest that the greatest value to clients' businesses is not to be found in the latter."
Hurman also believes that he's privileged to have been given this role at a point when the network - and its planning product in particular - is in such a position of strength. OMD is, he suggests, a network with unrivalled quality.
OMD's awards and new-business track record over the past few years might seem to bear this out - but it's telling, in talking to rival networks, to hear so many people advancing the view that the agency is entering an "interesting" transition phase.
Omnicom, some observers say, is assessing its EMEA succession management options both at OMD and at its parent organisation, Omnicom Media Group, whose EMEA chief executive is Colin Gottlieb - and some sources say that OMD's global chief executive, Mainardo de Nardis, believes that the network has reached a critical stage in its evolution.
There's also a widespread feeling that (perhaps paradoxically, given that its clients include Sony and Apple) the network has been late to the digital party - and that this perceived weakness represents an opportunity.
OMD will point out that its digital product is evolving rather nicely under Damian Blackden, the president, digital, of OMG EMEA - and that Hurman's work will dovetail seamlessly with that evolution.
Hurman says he is more than aware of the challenges that await on the innovation front. He points out that there has been so much change in the media market over recent years - but if you look at most media plans, they look pretty much the same as they ever did. "That just doesn't feel right," he says.
And he concludes: "We have to be aware that what won us business over the past ten years probably won't be what wins us business in the next decade. So we cannot sit quietly by.
"We spend most of our time thinking about the value we can deliver for clients - so why do we spend so much time in media talking about gross rating points?
"The job of marketing is to buy growth, not gross rating points. What we must be fighting for is maximising the impact of communications," he adds.
THE LOWDOWN
Age: 47
Lives: Blackheath, London
Family: Partner, Susannah, and Joseph, 12
Last book read: Military history
Favourite media: TV, but books run a good second
Must-have object: Susannah would say my ****** BlackBerry!
Interests outside work: Joseph, a rare round of golf, military history
and cosmology
Motto: "This is the business we've chosen" (Hyman Roth to Michael
Corleone in The Godfather Part II)