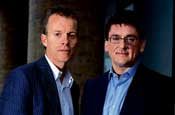 From September this year the business will offer media planning and buying solutions as well as creative.
Hurrell and Dawson has briefed headhunters to recruit the media figure, and will consider equity and a name above the door, for the right person.
The founders insist that their media offering will not be a media department, but a fully integrated service that will grow organically, rather than through acquisitions.
Neil Dawson said: "Everything we do is defined by media. No strategy can be executed without reference to, and knowledge of, the media options available. And those media are proliferating, separating, and innovating on a daily basis.
"In our previous agency lives we both ran media owner business, and tried to promote the closer union of creative and media. This is a harder task than it appears given the parallel structure that now characterises our industry."
Nick Hurrell added: "We will plan media, and we will buy media, and importantly we will connect our clients with the media owners more closely than ever."
- Perspective, page 21.