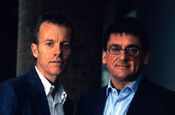 The change reflects the agency's appointment of two new partners over the past six months. Shunning the route taken in January by start up shop Adam & Eve, HMDG's four equity partners will instead be represented. Scroll down and tell us what you think below.
It is understood that the quartet deliberated for some weeks over other more creative options, but concluded their names would lend them the strongest brand identity.
Hurrell and Dawson was founded in 2006. Al Moseley (below) and Greg Grimmer (bottom) both joined the shop this year.