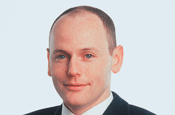 He will leave the banking giant in November to take up the position of commercial director of Top Up TV.
Hytner's departure will unsettle Bartle Bogle Hegarty, whose advertising for Barclays has come in for criticism since he took the marketing chief's role at the bank in June 2004.
A source close to Barclays told Campaign that Barclays had been unhappy at BBH following a lukewarm consumer response to the new brand strategy which the agency launched last year. Steve Kershaw, the BBH group director who worked closely on the account, left the agency after 21 years in June.
Hytner's move will reunite him with the Top Up TV chairman, David Chance, with whom he worked at BSkyB. Hynter left BSkyB to join Channel 5, then ITV, where he was marketing director.
His role at the bank will be covered by Deanna Oppenheimer, the chief executive of the UK retail bank, until a decision is taken on the long-term marketing structure. The bank declined to comment on whether it would be looking for a direct replacement for Hytner.
Top Up TV launched in 2003 to offer additional subscription channels to Freeview customers. It now carries 21 channels, including MTV, Paramount comedy, Disney and the Cartoon Network. It is adding Setanta Sports this autumn.
Sky is planning to launch a rival pay-TV channel on Freeview, pending a green light from Ofcom.