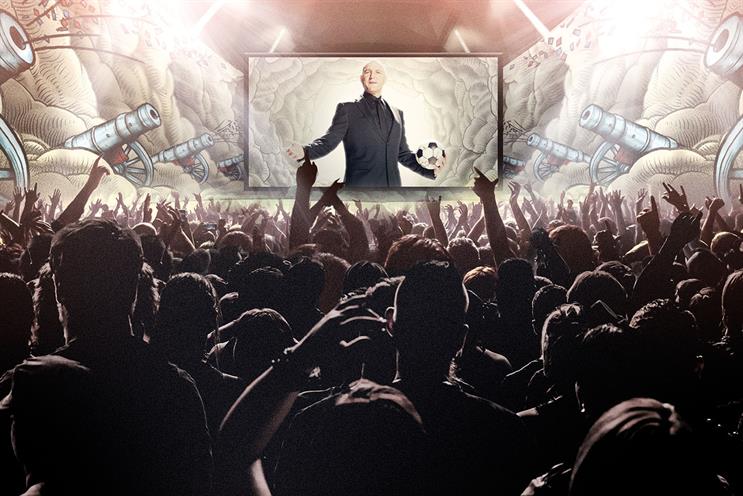 With 24 teams, 51 games and three of the UK home nations (sorry, Scotland) competing, this year's Uefa European Championship, which kicks off tomorrow (Friday), is on a scale never seen before – and the opportunity for brands is equally unprecedented.
But with every brand and its dog after a bite of the football spend, it will be difficult to be heard amid the noise. Recent data has revealed that of the top ten brands associated with Euro 2016 by the public, only four were official sponsors – making it vital for those sponsors to have a considered approach to activation.
For tournament sponsor Hyundai – which was not among those top ten brands – this has meant creating something that marketing director David Pugh hopes will be unforgettable in terms of its visual impact and the experience it offers supporters. Conceived by The Brooklyn Brothers, the FanDome is a 1,000-capacity venue in London's King's Cross that will show 45 games and offer a "world-first, live, reactive, 360-degree audio-visual experience". It's also being hosted by a certain Vinnie Jones.
"We think the event will stand out because it is truly unique – there's never been anything like it before," Pugh says. "We think the experience inside the dome will be a truly memorable event in a way that conventional sponsorship activity probably won't."
Of course, for the FanDome to make any impact for the Hyundai brand, there are a few issues to navigate. First, the total number of tickets available for the dome – 45,000 – is smaller than the attendance at a single game at the bigger stadiums in France. So how does Pugh plan to make sure the activity reaches a mass audience?
"We really think it will have a life beyond the confines of King's Cross through audience amplification," he says. "Because of the nature of the experience, our hope is that everyone will share it with their friends and relatives through social media because they'll never have seen anything like it before." Pugh says the nature of the FanDome meant there was a deliberate decision to focus on making the single venue as impressive as possible, rather than sponsoring multiple screens. While he expects it to attract a predominantly south-east-based audience, the location – close to King's Cross and St Pancras stations – has been chosen to make the FanDome accessible to fans from across the UK.
"You'll go home in absolutely no doubt about who was organising the experience you've just had"
-David Pugh, marketing director, Hyundai
The other balancing act is making sure the activity actually brings a commercial benefit to the brand. Pugh says the experience will be "light touch" in terms of brand messaging, acknowledging the risk of being too in-your-face in such an immersive environment. But he does say: "You'll go home in absolutely no doubt about who was organising the experience you've just had."
As for the value of football sponsorship to Hyundai, there are two sides to it – and they reflect a brand that wants to think big but still needs to prove itself to some degree.
"We still don't have the awareness levels of some of the other bigger and longer-established car brands," Pugh says, even though Hyundai Motors UK was formed a decade ago and has just sold its millionth car. So the activation of its long-standing football sponsorship (Hyundai has been involved in the Euros since 2000) is about "reinforcing the fact that we are now part of the streetscape, the furniture, in the same way football plays that role in people's lives".
But the scale and the ambition of the FanDome is also intended to be a signifier of Hyundai's aspirations. "Over the past ten years, we have changed very much as an organisation and our products have too," Pugh says. Later this year, for example, it will launch Ioniq, which Pugh calls "an extraordinarily efficient hybrid – as advanced as anything in the mainstream market today, arguably more so".
Of course, there's another factor that might taint the commercial side of football for some fans – the seemingly bottomless pit of corruption within Fifa, which has spilled over to Uefa. Pugh is cautious – admitting that "we wouldn't choose to have that happening" – but is optimistic that football has a positive future.
"As a sponsor, the best thing for us is to focus on what we can do well," he says. "In the middle of the tournament – when England are hopefully winning 3-2 with 90 seconds to go, emotions are running high and we've got this amazing immersive experience in the dome – I don't think anybody in there is going to be thinking about anything other than the game."
They shoot, they score! Other official sponsors' tactics
McDonald's ran a competition giving children the chance to be a player escort at three matches in France. The winners get to take part in a football training camp as well as accompany the players on to the pitch.
Orange initiated a plan, fronted by Zinédine Zidane (pictured, above), to track down the world's biggest football fans. The 20 winners have been invited to the final in Paris.
Carlsberg has carried out stunts such as sending Sky Sports presenter Chris Kamara, disguised as an elderly man, on to the London Underground to award match tickets to passengers who gave him their seat.
Coca-Cola gave away 504 sets of four tickets to games at the tournament – that's 2016 in total – via an on-pack promotion.