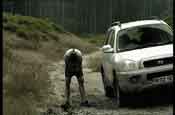 Hyundai is following in the footsteps of General Motors and Toyota by asking its incumbent European agencies to pitch for pan-European advertising projects.

The first such pitch will be for the September launch of the company's SD hot-hatch. VCCP, the car manufacturer's UK agency, will be invited to pitch against shops from the company's major European markets, such as Spain and Germany.

The strategy has recently become popular with other motor manufacturers such as Toyota, which asks Clemmow Hornby Inge and Saatchi & Saatchi to pitch for every project, and has been instigated by Hyundai as it bids to make its advertising more European in style.

Last year the car manufacturer used the same strategy for its sister brand Kia and the launch of its Sedonda MPV and Sorrento 4x4 models. The company's Greek agency Breakfast eventually won the pitch.

The SD model will be Hyundai's first into the hot-hatch category and will be similar in performance to the VW Golf.

The company hopes that the launch of the marque will play a key role in giving the brand a more upmarket positioning.