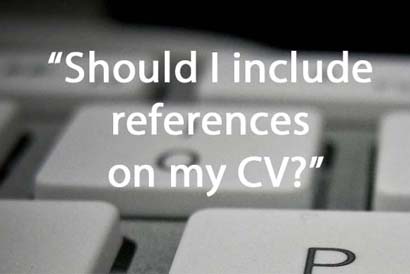 It is too early in the recruitment process
References aren't usually required until after an applicant has accepted a job offer. As a jobseeker, you might have to go through several rounds of interviews and assessments before even being made an offer. Then, only after you have accepted that offer, are references going to be asked for.
Keep your options open
Another tactical reason for not giving references in your CV is that it keeps open the choice of whom you might want to give as a reference. Depending on the situation, there may be numerous people you would like to call on to be a referee. If you have already provided details in the CV it makes it more difficult to change who you would like to be your referee later.
Use the space in your CV wisely
Ultimately, the purpose of a CV is about getting you an initial interview. This is what you should focus on. Space in a CV is precious so it is better utilised providing compelling reasons for you to be interviewed. Give concrete examples of relevant achievements and substantiate this with facts and figures. The stronger the achievements, the more likely you are to win an interview.
If your CV still contains the details of references then it would be worthwhile taking these off. There is no need either to say, 'references available on request'. Why state the obvious? You will need to provide references but only after you have accepted a job offer. Your CV is the time to focus on getting that first interview.
This article is written by Neville Rose, director of CV Writers. In addition to a CV writing service they can help with LinkedIn profiles, cover letters and more. You can get things started with a Free CV review.