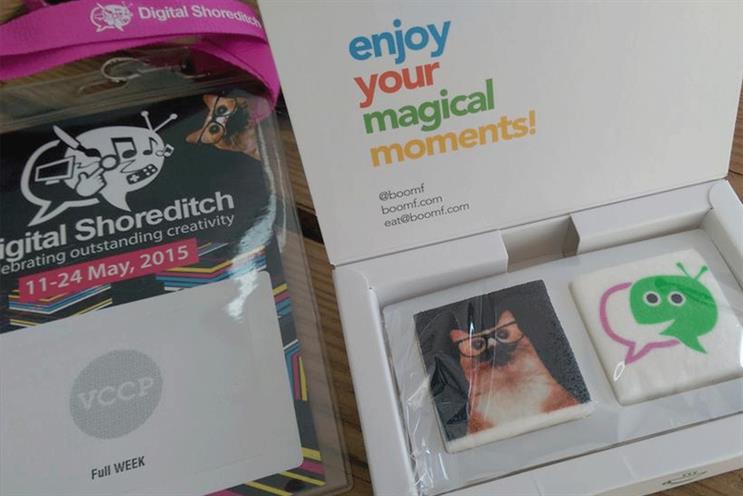 I was feeling twitchy, flicking my head skywards like a nervous goon in Gotham. The powers that be in the City of London appeared to be oblivious to the imminent threat posed by Digital Shoreditch 2015.
Some claim the event, now in its fifth year, to be the European equivalent of SXSW however, in contrast to the Austin Police Department, London law enforcement had so far failed to declare the borough of Hackney a drone-free zone. What were they thinking? Run for cover.
As it turned out, the chillaxed attitude of the City brass was quite prescient. There's no doubt that DS15 could attract the tech in-crowd from near and far, and its scale – 538 speakers,140 networking events, 77 panels and workshops – is jaw-dropping, but Shoreditch also offered a genuine alternative to the heady, Silicon Valley glamour of Austin.
Less celebrity, fewer drones, less rhetoric, less back-slapping, more community and, as I saw it, more authenticity.
The venue itself spoke of local industry more than global awesomeness. At first, in the smaller rooms, Shoreditch town hall feels a bit fusty, reminiscent of old folk sipping tea at a committee meeting or, worse, a school assembly.
But the atmosphere of conviviality, collaboration and exploration was infectious, and I soon got in to the irreverent and off-beat DS groove.
Many of the talks were just 10 or 15 minutes long, which was strangely invigorating. Less content, more people and their ideas.
The hipster count was notably low, though that didn't stop me picking up a souvenir pack of Instagram-printed marshmallows.
In the main assembly hall there was much more sense of the real potential energy running through Digital Shoreditch. The hall had a high-profile conference feel with the obligatory digital screens, fresh coffee, pastries and wireless charging, and gave a sense of how big a deal this week has become.
Even there, though, speakers were not grand-standing or selling the dream. On the Grow day (alongside Make, Next, Connect and Live) a client and I chanced upon a start-up panel discussing the merits of signing up with an incubator or going it alone, and the need for a positive, shared space to work in as you grow.
A bit later on, Visa Europe's presentation about their Collab initiative was low-key, open and inviting. Eleanor Orebi Gann talked about how Visa gives start-ups a 14-day "dating period" to see if there is potential to work together, then funds a 100 day proof-of-concept. She said Collab aims to deliver five innovations in to the core Visa Europe business this year.
Across the road at the Ace hotel we found the unassuming James Allsopp, one of the co-founders of Digital Shoreditch.
Despite looking like he hadn't slept for 72 hours, James was remarkably calm and matter-of-fact. He was clearly proud of the phenomena he had helped to create, however he also reminded me that this is a not-for-profit initiative and as much about community than numbers or fame. Fair play.
Will Harvey from VCCP was running daily interviews with secret speakers via the Twitter-based live video streaming app Periscope.
Actually, in spite of the number of buzzwords in that sentence, it worked pretty well. As it happens Will had earlier been presenting on the main stage about the new dynamic emerging between brands, agencies and start-ups.
I think he captured something of the spirit of DS15, framing an open approach to collaboration that is much needed in what can often appear to be a polarised landscape – the disrupters versus the establishment.
One of the secret speakers was Tarah Feinberg from Kite, a platform that enables brands and investors to find the start-ups they are looking for, even if they don't know who they are looking for.
It's this new openness that I think defines DS15 and the inherent opportunity for agencies and marketers to get involved.
Sure there were hundreds of sessions featuring the usual suspects – virtual reality, augmented reality, data, wearables, 3D printing, etc – but there was also a lot of talk about networking, establishing mutually beneficial connections, working together and sharing everything that is learned along the way. Now that's digital.
It felt to me that start-up culture has perhaps grown up a bit, not as in becoming "the man" but as in realising that tech is also business, whether you are large or small, and that now problems are more easily solved through partnerships.
That made me feel optimistic about a more collaborative future – with partners, whether brands, start-ups or both – getting stuck in, being honest having a go.
Digital Shoreditch can do that. Maybe SXSW, or even Cannes, could have the same invigorating effect for some, but I think DS15 offered something different. Let's say more "making it" than "made it". Long may that continue.