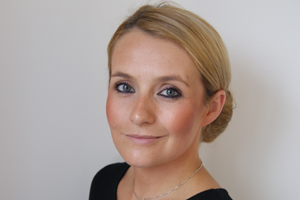 What do you do and how long have you been in your current role? I run independent, stand-alone staffing agency BM Promotions. I founded BM in 2006 with my husband Jordan and have worked on it every day since to develop it into a well recognised, reputable agency.

Where was your first job and what was the most important thing you learnt there? I waitressed in a family-run restaurant called Little Venice in my home town of Worcester from the age of 15. The most important thing I learnt there was to be self-sufficient. Hard work and happy customers equalled extra pocket money. It's a lesson I keep with me to this day.

How did you get from there to where you are now? I definitely had some growing up to do. I stumbled my way through college and university not really knowing what I wanted to do but gaining clarity when I found out I was pregnant with my son shortly after.

Drawing on my experience of part-time promotional work whilst at university, I believed I could do it better. With some confidence and a leap of faith from my father, combined with hard work, graft and steely determination, Beautiful Minds was born. Over time, with our business growing significantly year on year, BM has a database of over 1,600 staff, six office staff and a portfolio of remarkable clients.

Looking back, did you expect your career path to take the course it has? I always knew I would run my own business but I had no idea what it would be. The event industry has been a perfect fit and has given me the opportunity to work with the most incredible people and brands whilst drawing on mine and my team's strengths to create a successful agency.

Would you do anything differently? Absolutely not. I'm a firm believer that experiences make you the person you are. If I changed anything then perhaps it would change the very heart of our business which everything else has sprouted so organically from. I have definitely made mistakes along the way but with experience comes strength and empowerment to go on and get it right the next time.

Who has inspired you along the way? I've drawn inspiration from a number of people. My father, the most incredible business man I have ever seen at work, and my husband, Jordan Simpson, who I have watched develop alongside me and keeps my feet hovering just slightly above the ground. I have learnt from one of the cleverest women in the events industry Liz Madden, who taught me to only do business with people you like, and my mentor Simon Burton who is a constant steady influence and focussed individual providing me with a much needed shove in the right direction at times.

Have you ever had a job interview that went particularly well or spectacularly wrong? I haven't had either. I love interviews, I absolutely thrive off them and would love to be interviewed by Claude on The Apprentice.

Is there a piece of career advice you've been told that has stuck with you? Yes. Only concern yourself with what you are doing, what you are achieving and how you operate. Don't spend time watching the competition. Its time you could spend looking after your clients. I reiterate this to my team all the time. Yes, it's good to know what's going on around you but don't let it take over. People get too obsessed with what others are doing but it's what and how you are doing that really counts.

What career advice would you give to your 21-year-old self? Read, learn, listen and soak up every bit of information about your industry you can. Go out and network and meet people. Don't rely on email. Pick up the phone and talk to your customers. People do business with people and its worth investing the time in making your clients feel valued.

How do you relax after a hectic day? After seven years I still struggle with this. Do I ever really switch off? I'd probably say no but over time I've learnt to control it. Having such a strong, committed and focussed team behind me takes the pressure off but after a long and stressful day it's a cuddle with my children, a long soak and a G&T – that works a treat.
Want to share your career story with us as part of the Women in Events campaign? Email associate editor Rachel Bull to feature in a future How I Got Here.
Comment below to let us know what you think. Plus, read exclusive campaign features in the print issue of Event. You can get it by subscribing here.
Follow @rachelbullevent