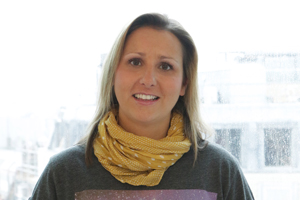 What do you do and how long have you been in your current role?
I work within events and experiential in the live team at Carat Sponsorship. I'm lucky enough to work across all of the agency's clients including British Gas, Philips and Santander. This involves pitching, planning, delivering, producing and project managing brand experiences and live events in an innovative and creative way. I have been here for two and a half years.
Where was your first job?
I did a couple of ski seasons before university but my first job was as an account executive in the events and field marketing team at Momentum.
What was the most important thing you learnt there?
I learnt what it really was like to work as a team, to have and provide support. I had a fantastic manager and mentor, Leanne, who taught me to get myself out there.
How did you get from there to where you are now?
I've always been keen to get stuck in and learn from experience. Although university was very useful, I feel that interacting with people and getting involved has been more beneficial. At Momentum I worked across field marketing, events, production and staffing. In my next role I focused more on the event production side, and then worked for Edwin Shirley Trucking planning rock and roll music tours for the likes of Oasis and Tom Jones.
Next was a stint co-ordinating the build of the world's first carbon neutral, solar powered five-a-side football stadium in Qatar to help them secure the 2022 World Cup, which led me to the wonderful world of brand experience at an international media agency here at Carat.
Looking back, did you expect your career path to take the course it has?
I always wanted a fast-paced career in London but wasn't set on a discipline or certain path but knew it would be focused around organising and/or marketing. Being an astronaut was plan B.
What has been a highlight of your career?
Shenanigan's at Bestival. Last month we designed, created and ran an immersive brand experience for Tourism Ireland called Shenanigans. It was a huge success and great fun to organise, even though I had to sleep in a tent for a week.
What would you have done differently?
I've never been in a rush to grow up but I do wish I'd pushed myself more a few years ago, but I'm making up for it now. I always need to find things out for myself and do believe that the decisions I've made have led me to where I am now.
Who has inspired you along the way?
I've had some inspiring managers - and still have. My mum has been the biggest inspiration in my life, supporting and encouraging me every step of the way in my career. I also recently read Lean In by Sheryl Sandberg and although there's been some controversy about the book in the media I found it inspiring.
Have you ever had a job interview that went particularly well or spectacularly wrong?
I have always arrived well prepared, done my research and been in the right mind set. Being able to think on my feet is also very useful as well as bribery – I once brought a bag of Haribo to a recruitment consultant meeting, which went down very well.
Is there a piece of career advice you've ever been told that has stuck with you?
Keep it simple. I also like this quote from Chris Brogan: "Don't settle: don't finish crappy books. If you don't like the menu, leave the restaurant. If you're not on the right path, get off it."
What career advice would you give to your 21-year-old self?
Listen, read and absorb it all.
How do you wind down and relax after a hectic day?
Wine and good company is the usual remedy.
Want to share your career story with us as part of the Women in Events campaign? Email associate editor Rachel Bull to feature in a future How I Got Here.
For more in-depth and print-only features, showcases and interviews with world-leading brands, don't miss the next issue of Event magazine by subscribing here.
Follow @g_cotton