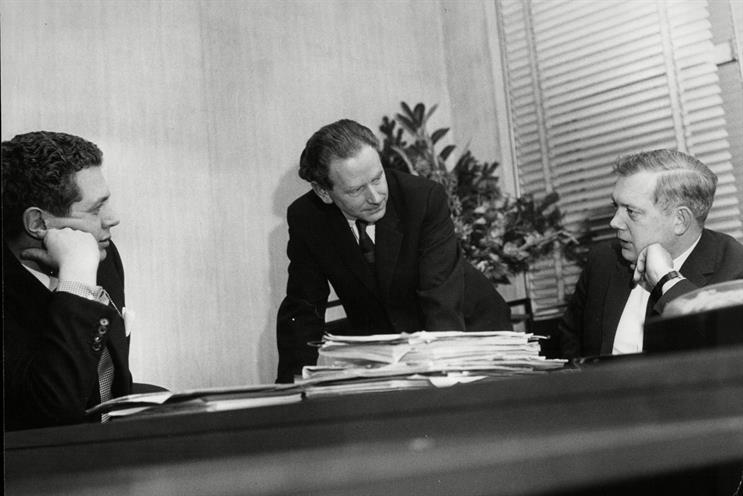 Early in July 1966, on a Saturday morning, I met David Kingsley for the first time. I was desperate for a job, having left my previous employer to join a start-up venture outside of advertising that at the last minute had fallen through.
David was in the middle of marshalling a pitch for Wrigley, hence the weekend interview. Having failed to get a job at CDP, I badly wanted to join the next hottest agency in town, KMP. Standing for Kingsley, Manton & Palmer, it was one of the first major breakaway agencies that started with no business at all.
David had piercingly blue eyes and a razor-sharp line in questions – after my initial apprehension, I really warmed to him and actually enjoyed an interview for the first time in my life. He asked me to contact Michael Manton the following Monday morning for a second interview. Two days later, an envelope embossed with KMP popped through my letterbox at home offering me the job and, because I was out of work, I started on Thursday morning.
I joined in on the Wrigley pitch and, one evening late in the process, David asked if I would mind staying to pick up the completed pitch document and deliver it to him at his apartment just off Edgware Road. I got to his home at around 8pm and rang the doorbell. He opened the door wearing jeans and a sweatshirt – my bosses until that moment had always worn three-piece suits and ties.
Having delivered the document, I turned to leave when David asked if I had eaten. On hearing that I hadn't, he insisted that I should join him and his wife for a supper of spaghetti bolognese.
From that moment, I would walk through walls for David – he was the first boss to treat me as an equal human being. I learned an awful lot from him, whose nickname at KMP was the "young master".
He had enormous energy, with an intellect to match – it was way before technology made things easy. He always used thin green paper, which he filled from top to bottom in a barely decipherable outpouring of strategy, tactics and executions. His prodigious output was difficult to keep up with, but he was unfailingly patient while the rest of us struggled to keep pace with him.
I worked with David as his point man on the Salvation Army campaign, which broke the mould of charity advertising up until then. It raised £1 million – the first campaign to do so. He had on his wall a cartoon from The New Yorker of two people having lunch(pictured, below); the caption underneath read: "What I really want to do is my bit for mankind and get a piece of the action." He absolutely believed in that sentiment and this is one of the thoughts that has guided me ever since.
David and the other partners recruited a number of us young lads who went on to start our own businesses. Michael Gold and Richard French set up their own agency, as did Chris Ingram and David Holmes, KMP's head of art. I would argue that, in its own way, KMP – and, subsequently, with Len Heath – was as important as CDP in changing the face of British advertising. David, in particular, had a management style that absolutely got the very best out of all of us who worked for him.
Lots of the stuff that I learnt from him I carried into Abbott Mead Vickers. I honestly believe David has never had the recognition he deserved. His groundbreaking abilities, his energy, his intellect should have meant that we were writing about Sir David Kingsley, the multi-multimillionaire. Instead, this is an obituary for my mentor and friend David, who never lost his enthusiasm for the communication business, was truly a trailblazer as a political strategist and was a constant source of inspiration for me and the others whom he attracted to KMP like the Pied Piper. He made us all understand that it was possible for us to start our own businesses but made sure that we had a complete set of principles and beliefs to help us on the way forward.
I would not be where I am today if I had not met David. He died after a long debilitating illness but I will remember him forever. The word is overused, but David J Kingsley was a great man. He will be sorely missed.

Peter Mead is a founder of Abbott Mead Vickers