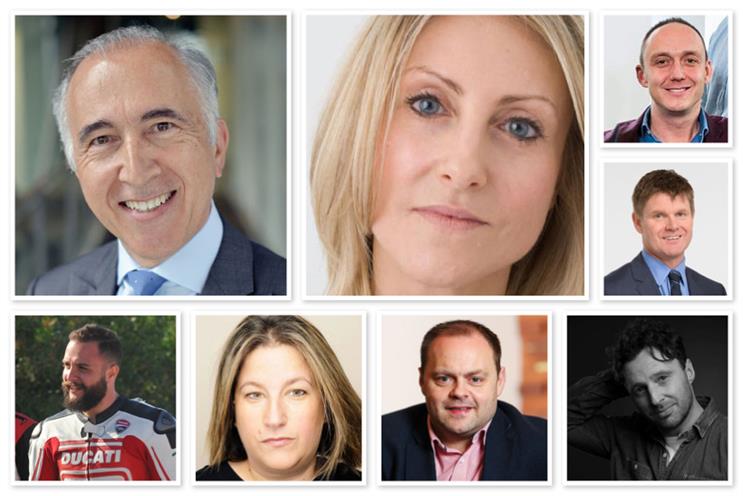 Patrick Bousquet-Chavanne
Executive director of customer, marketing and M&S.com, Marks & Spencer.
Google Home and Alexa weren't helpful with their 2018 predictions; their parent companies have not yet made public their next moves.
It is fair to expect that the transformation of global retail will continue at pace in 2018, with further consolidation as well as new alliances emerging in a UK retail market that is likely to remain particularly challenging. Whilst online and mobile commerce is expected again to drive the majority of UK retail growth across all sectors, in 2018 we are all pursuing at rapid pace the integration of online and offline in order to create the most convenient – which means fast and easy - efficient and inspiring customer experience.
Technology will continue to disrupt at speed how we engage with the customers, VR, AR and AI all having an impact on how more brands go direct to customers with more personalised propositions and daily conversations becoming possible on the back of richer data.
In an ever more complex and atomised channels world, marketers will continue to adapt and drive for optimisation of their spend, however, with declining brand loyalties never has building one on one relationships with your customers become so vital.
The transformation of marketing organisations is likely to accelerate as retailers secure digital talents in order to meet the rapid conversion of mobile and social commerce. With evolving technology, from WeChat to Facebook, shopping is transforming and now plays at the heart of social conversations, this makes for a fascinating time for marketers and digital leaders, rarely have the opportunities been so dynamic for brands to customize their own path to success. I remain excited and challenged by the potential for M&S in the year ahead.
---
Verra Budimlija,
Chief strategy officer, Wavemaker
Artificial Intelligence will become a firm reality. Whilst the technology has already arrived, it's where it may take us that has dominated conversations. It's poised to take over every aspect of the economy; for the first time, we'll be able to make big data meaningful. However, the questions will be how do we apply our newfound knowledge? And how do we best use this incredible technology?
Smartphones and smart home gadgets are morphing into front end AI devices, creating an intelligent, cloud enabled digital assistant that can easily transition into our everyday lives. Brands can build even closer relationships with their customers; share relevant product news, guide through a technical problem or simply entertain us. Now that brands have a voice, how should they sound?
In the context of the purchase journey, machine learning voice platforms can learn and adapt to customers' needs, further improving their experience and making personalised recommendations on products and services.
I hope these advances will give us freedom to spend time with people, to step inside their shoes. Empathy has been noticeably side lined in favour of data points in recent years.
If we want to help brands build better relationships with their customers, we have to get to know them first. Isn't it fabulous that the steady introduction of AI could allow us the time to get back to basics?
---
Mark Evans
Marketing director, Direct Line Group
Wider world: May we live in interesting times
2018 is likely to be as wobbly as 2017. The political and economic malaise is scaring a lot of people, including chief executives and chief marketing officers. There will be a temptation to hunker down and focus on the short term but to quote the brilliant Hassan Akkad who spoke at the Marketing Society annual conference last November: "When the world goes mad, bravery is the safest option". For marketers today, bravery means staying committed to the long term. As tempting as it is to focus on direct response levers that have demonstrable short term impact there is a duty of care to keep investing in the future health of brands through challenging times.
Insurance: May AI make its mark
I've said before that I used to dream of being a soldier, an astronaut, or a sports star – I never imagined I would work in insurance, but that back then I didn't know what I didn't know. Insurance turns out to be at the confluence of all the major tech trends (connected home, driverless car, AI, blockchain, IOT etc) and is actually surprisingly fascinating. In particular, if AI does go mainstream in 2018, we can expect it to have a huge impact on the insurance sector. From determining premiums, to optimising customer journeys, to sorting out claims, AI potentially touches every part of the value chain so watch out for all manner of applications coming to an insurer near you soon.
Personal: May businesses embrace "radical diversity"
In 2018 I expect more people to wake up to the fact that diversity isn't just about social justice but makes fundamentally good business sense; to those ready to embrace "radical diversity" will come the spoils.
My tip is that neurodiversity will quickly creep further towards the top of the agenda. It is the diversity conversation yet to happen but with the greatest potential upside to performance. The "superpowers" of those with autism, dyslexia, dyspraxia, dyscalculia and other neurodivergent conditions will become recognised as critical, particularly in a world where tasks that require repeatable precision will increasingly be automated and innovation will come from the edges from the people whose brains are wired differently.
---
Victoria Fox
Chief executive, Lida
Agencies that find, nurture, evolve (and keep evolving) their creative mojo in today's fast-moving marketing landscape will prosper over the year ahead.
There is so much brilliant change going on that should be exciting for marketers. But to make the most of it, agencies must bring all of their creative magic to the table.
Technology, data and new channels should not be feared but embraced. However, they must be regarded only as ingredients we can use cleverly to fuel our creativity.
For a while now it has felt as if we've been in a plumbing phase - simply getting the tools together that we need. What will be exciting to see is what happens when, with everything now in place, we get down to working out how best use these ingredients to create powerful and relevant experiences over the next year.
Creativity and the magic that comes from fresh and innovative thinking is what sets pulses racing, engages customers, wins custom and loyalty. Ultimately, creativity with a capital "C" is what separates us from consultancies. And the cultures we nurture as agencies should be protected as it is these cultures that set creativity alight.
Over the year ahead we need to bring together different thinkers, celebrate their differences and let the spark of brilliance this results in flourish. And it will be challenging.
We will need to convince marketers that ultimately creativity is what will help them win their battle for consumers.
We will do this by harnessing our most articulate and persuasive voices.
And it will be those agencies who do this best who will come out ahead.
---
Lex Lambrou
Chief marketing officer, LetsDoThis.com
Marketers and technical teams will need a far deeper cooperation than ever before. Data driven decision making and an overall fluency in how the technical side of these evolutions work is no longer a string to the bow, it's business as usual. If you don't have a marketing metrics dashboard, in some shape or form, informing your weekly decision making, you might want to invest in one sharpish.
The rise of cryptocurrency is something savvy marketers will need to stay close to. I think this will play a big part in ticketing not just for sport tech, but a range of industries that rely on ecosystems for product market fit.
I also believe marketers need to be aware of and capitalise on the diminishing barriers between public and private companies. Government bodies are becoming increasingly engaged in new sectors and tech offerings. Recently, letsdothis.com appeared at an event where start-ups, government agencies, venture capitalists, thought leaders and blue-chips were all in the same room, all figuring out how they could best work together. Spotting these convergences and the opportunities they open up should be a key part of any 2018-2020 strategy.
In the same vein, all marketers should be thinking carefully about the need for a community, customer centric business approach. Personalisation will become even more intrinsic to building brand loyalty as we move into 2018 - think VR, blockchain, facial recognition and unique content - it's all personal.
The sports sector is a great example of how this approach to business will start to translate into a new approach to brand building. Whilst influencer marketing remains a strong focus, the democratisation of content and engagement will see the rise of 'everyday' passion and loyalty from customers, become the bed-rock of campaigns. 2018 will see a resurgence of human led content which blurs the line between content creators and content consumers. It's going to be a truly exciting for us in how we tier content plans.
---
John Litster
Managing director, Sky Media
I am hopeful that in 2018 the momentum swing-back to TV we are seeing in the last quarter of this year continues apace. Increasingly, marketers and agencies will return to mediums that help brands tell meaningful stories and build trust.
As part of this, brands will demand more integrated solutions. With improved data and greater understanding from companies like Sky and trusted bodies like BARB, TV will continue to offer advertisers the opportunity to follow audiences across platforms and change their messaging according to the environment. A major part of this move will undoubtedly see an uplift in media owners and clients working more closely together – creating multifaceted campaigns which open up content, talent and product integration opportunities and deliver longer-lasting, more rewarding outcomes.
2018 is set to be an unprecedented year of collaboration not just between media owners and advertisers but within the TV industry itself – this is typified by our decision to host The Big TV Festival together with ITV and Channel 4 in February. The time is right for TV as an industry to be out there shouting about what makes our medium great. We're the only platform that can offer the combination of massive reach, real engagement, complete brand safety and rich data. This festival is about celebrating that story with some of the media industry's rising stars, the brand builders of tomorrow.
Finally, I see 2018 as real "moment" for addressable TV and it's great to see the other players joining the movement with their own versions. Addressable products such as Sky AdSmart will continue to expand over the next year, and become more powerful, allowing brands big and small to connect with their ideal audience like never before.
---
Alex Lubar
Chief executive, McCann London
I'm going to call 2018 the year of commitment. Fool that I am! After the fiasco that's been our Brexit bedfellow for the last year and half I think we're going to see much longer future-facing and larger commitments by our clients for their businesses.
The reason? We're all dog-tired of waiting… and after all the great, relentless train of commerce must chug-forth. There was an understandable stutter-step to activity in the market after the surprising June 2016 "vote-to-leave the EU" news, but 2017 saw plenty of action by our clients after they recalibrated from the FX shock and started taking iterative steps to get back to their pre-Brexit ways.
Just recently we heard from the Recruitment and Employment Federation that UK employers are picking up the pace of hiring to avoid the loss of workers from EU countries in the face of unprecedented Brexit fears.
I want to think that 2018 will bring a greater confidence to act by our clients. Capitalism is impatient! As are we. Because as scary as the potential consequences of Brexit are… the prospect of zero quarterly growth is far more deflating.
---
Dylan Williams
Chief strategy officer, Droga5 London
The world of branding has seen many a pendulum swing - from difference to relevance, proposition to purpose, tangible to intangible asset value. And with the advent of the sharing economy, we've seen our very notion of "ownership" brought into question.
Next it will be the concept of "trust" that undergoes similar inspection. For just as technology has fanned the flames of fake news and "disinformation-as-a-service", it will be technology that digs us out of the current mire.
2017 was the year that blockchain technology proved concept within finance. In 2018 the immutability of distributed ledgers will extend into supply chain data, medical records and digital rights.
As the internet of things takes the heavy lifting out of front-end data entry, the much-heralded age of transparency will be upon us. Our ability to see through the walls of companies will be unprecedented. We'll have clear sight of provenance, tax stance, material sourcing and design philosophy.
2018 will bring us to a tipping point where we tell Alexa to "cleanse our basket". This will be a defining moment when any brand built on over-claim and bullsh*t will be gone from our lives, forever.